By WallStreetJournal. When Volvo Car Corp. debuted its newest design recently, it turned heads with an edgy look that departed from the staid style that has been its hallmark. The upscale sedan has sleek curves and pale purple LEDs in its grille in a bid to plant the Swedish company more firmly in the luxury segment.
The car represents a compromise between competing visions of Volvo's future. On one side is Volvo's European chief executive, Stefan Jacoby, and on the other, the company's hard-charging new Chinese owner, Li Shufu. Mr. Li's Zhejiang Geely Holding Group Co. acquired Volvo from Ford Motor Co. last year, in a landmark deal that put a global auto maker in Chinese hands for the first time.
In the nearly 10 months since the acquisition was completed, Mr. Jacoby and Mr. Li have worked to reconcile their visions and differing management styles to chart a course for a Volvo revival. By upgrading its product lineup to compete head-on with BMW and Mercedes-Benz in the crowded luxury market, Volvo risks diluting its reputation for building safe, family-friendly vehicles. The process has been occasionally rocky, as laid bare in a series of interviews with top executives that offer a rare look under the hood of a Chinese company's international expansion.
One central area of contention: Mr. Jacoby wants to focus on safety and fuel-efficiency with smaller cars, while Mr. Li believes Volvo must expand aggressively into luxury cars to compete with BMW, Mercedes and Audi. In China, the world's biggest car market, legions of newly rich consumers are snapping up fancy sedans at a dizzying pace.
"Volvo and Mr. Jacoby can take the moral high ground and stick with the company's tradition of understated, more modest style," Mr. Li said in a March interview, but the brand has no future in China unless it caters to flashier tastes.
It's "like producing cigarettes," he said, pretending to puff on an imaginary cigarette in a meeting room at Geely's Hangzhou headquarters. "Smoking is bad for your health, but tobacco companies make and sell cigarettes. The same is true with Volvo," and its need to cater to rich Chinese with super-luxury cars, he said.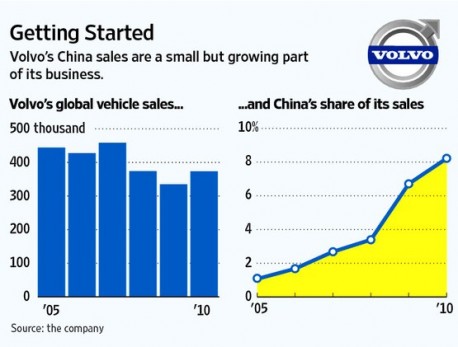 Whether Messrs. Li and Jacoby can overcome their differences and steer Volvo to success has broader implications for corporate China's global expansion. Chinese companies have poured tens of billions of dollars into foreign acquisitions in recent years—much of it into resources businesses—but they have had little success digesting and managing major consumer brands.
Lenovo Group Ltd. struggled to maintain market share for years after its 2005 purchase of International Business Machines Corp.'s personal computer business. SAIC Motor Corp. purchased roughly half of South Korea's Ssangyong Motor Co. in 2004 but sold all of its stake last year after Ssangyong's business slumped in the wake of the financial crisis of 2008. If Geely, which has no prior experience in running a global auto enterprise, is successful with Volvo, it could chart a course that other Chinese firms could learn from.
Mr. Jacoby and Mr. Li are a study in contrasts. The 53-year-old Mr. Jacoby, a reserved German who sports sleek, wire-frame eyeglasses, earned a business degree at the University of Cologne before starting a lengthy career at Volkswagen AG, whose U.S. unit he ran before jumping to Volvo. Mr. Li, 48, is the voluble son of former farmers who has built one of China's biggest privately owned car makers on the back of a tiny rural photo studio he started after finishing high school.
Friction between Geely and Volvo was evident early on, at a meeting in spring of last year at Volvo's headquarters in Gothenburg, Sweden, shortly after Geely and Ford disclosed a preliminary deal. About 40 Geely executives were there to get an overview of the Swedish company. One senior Geely executive felt the information Volvo was providing was insultingly simplistic. "Do you think we're a bunch of amateurs?" he exploded, before storming out of the room, and taking the next available flight back to China, according to a personal familiar with the matter.
The deal was completed in August, but distrust lingered. In September, on the eve of a trip to Sweden for his first Volvo board meeting, Mr. Li told a Journal reporter in Beijing that Geely planned to quickly build as many as three assembly plants in China to jumpstart Volvo sales. At the time only a small number of Volvos were made in China, at a Ford joint-venture plant. By the time Mr. Li arrived in Gothenburg, the resulting article had set Volvo executives and directors on edge, fearing that their new owner was adopting a risky, overly-aggressive approach.
The Volvo executives expressed their concern in a meeting with Mr. Li. Mr. Jacoby, fearing the situation could spin out of control, brought Mr. Li and a translator into his second-floor corner office. Mr. Jacoby pressed the point that Volvo needed to proceed judiciously in building manufacturing capacity in China to preserve its quality and its image. "We solved this very much on a one-on-one basis," Mr. Jacoby said in a recent interview. "We didn't want to do this in a big public setting and embarrass one or the other."
Indeed, the two men appear to be finding common ground, with the hard-nosed Mr. Li often relenting. Standing side by side at a press conference in Beijing in February, they trumpeted an ambitious turnaround plan for Volvo involving about $10 billion of investment of over the next five years designed to more than double its worldwide sales to 800,000 cars by 2020, from the 373,000 it sold last year. Instead of three China plants, it announced plans for one, to start production in 2013, although it said it might build another later.
"We're following Mr. Jacoby's instruction now, and we are setting up a manufacturing footprint for Volvo in China over a time period, slowly one at a time," Mr. Li said in a recent interview. He stressed he gets along with Mr. Jacoby just fine. Mr. Jacoby says Mr. Li is no different from any other hands-on shareholder he has dealt with in Asia or the West.
Perhaps the starkest symbol of compromise is the so-called Concept Universe luxury car, unveiled in Shanghai in April. As the company plotted upgrades to Volvo's product lineup, Mr. Li felt strongly that it needed a large, super-luxurious sedan to compete with the Mercedes-Benz S-class and the BMW 7-Series. Sales of luxury cars in China soared 49% last year, compared to growth of 37% for passenger vehicles overall, according to J.D. Power & Associates.
Mr. Jacoby advocated instead that Volvo stick to its tradition of more understated luxury, and focus on core midsize models like the S80 sedan and the XC90 car-SUV crossover. "We need to address our core volume first," he said. "You can be upscale and luxury without being in" the S-class and 7-Series segment.
Mr. Li responded in the March interview with the Journal by saying that Mr. Jacoby needed to understand China better. Many of China's new rich "behave outrageously," showing off their wealth and keeping mistresses, among other things, the Geely chairman said, rolling out his cigarette metaphor. Those are the people who buy from an upscale car brand like Volvo.
In the end, the Concept Universe hints at the more luxurious direction Mr. Li wants. It's not as large as the S-class or the 7-Series, but its underpinnings, called SPA for "scalable platform architecture," is designed to accommodate a larger sedan in the future. The Universe is meant to be "a step toward the S100″—the big car Mr. Li wants, according to Olle Axelson, Volvo's chief spokesman.
Michael Dunne, a long-time auto analyst who now heads up a Hong Kong-based investment advisory company, says Volvo's "image in China today sits on the periphery of luxury. To move closer to the bulls-eye, Volvo cars must offer an electrifying design, something that turns heads, and the Universe concept is a significant step in the right direction."
"The question is whether Volvo can convince Chinese buyers to speak of the Swedish brand in the same breath as the German luxuries and Lexus," Mr. Dunne said. Most other respected luxury brands, such as Cadillac, Lincoln, Jaguar, Acura and Infiniti, have not succeeded in doing so. Mercedes, BMW, Audi and Lexus account for nearly 90% of sales in China's luxury car market, the American analyst says.