Here we have another very special car from China. This is the Hongqi CA1021 U3 pickup truck. The CA1021 U3 was based on the Audi 100 that was made in China by the FAW-Volkswagen joint venture, FAW is also the owner of the Hongqi-brand. The CA1021 U3 appeared in 1993, three full years before Hongqi (Red Flag) started making the Audi 100-based CA7220 sedan (limo!).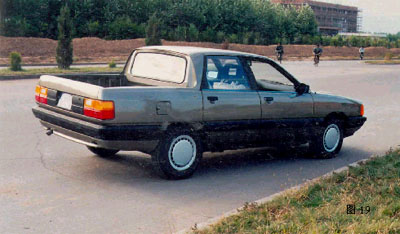 There were two versions: an all open pickup truck and a version with a 'cargo box cover', the cover could be removed. The CA1021 U3 was developed and made by Hongqi. The first batch was powered by the Audi 1.8 patrol engine that was also used in the China-made Audi 100. Later on FAW replaced the Audi engine with a Chrysler sourced 'CA488' 2.2. With that engine the CA1021 could hit 170km/h.
A very new example in three-tone color, complete with the Hongqi-ornament on the hood. It is likely the same car as on the first pic. How many CA1021 U3 were made is very unsure, as usual, but likely less than 500. The CA1021 remained officially in production all da way until 1998.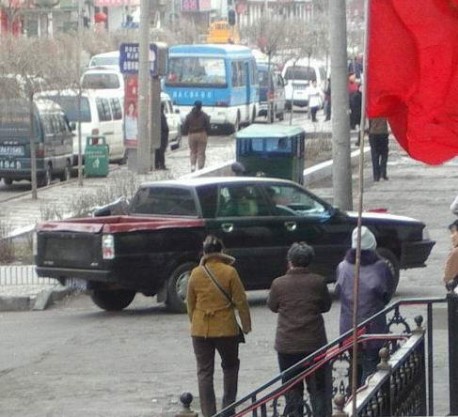 A black example on the road. FAW-Hongqi made many more eccentric vehicles based on the Audi 100. More on those, soon later…
Via: FAW, Baidu, Chinesecars.net.