We knew Infiniti would bring an extended M-series to the Chinese car market, we didn't know how stretched it would be. No we do, new Chinese media reports say the Infiniti M will be stretched by 15 centimeters. All extra space will go to the passengers in the back. The extended M will debut at the Beijing Auto Show in April.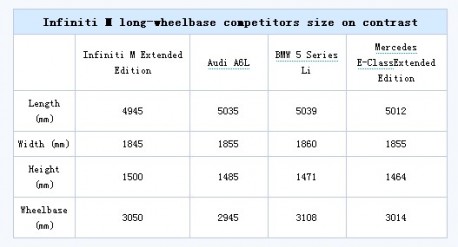 The stretched M will compete with cars such as the Audi A6L, Benz E300L, BMW 5Li and Volvo S80L. See table for a handy comparison. The Infiniti comes second in the all-important wheelbase category, right after the BMW 5Li.
All this competition however is locally made in China, the Infiniti will be imported from Japan. this means it will be some 20-25% more expensive than the other cars which is in this segment still a lot of money. Success therefore, seems unlikely.
In other M-news; Infiniti will also bring the M-series Hybrid to the Chinese car market, as an import as well, it will also debut at the Beijing show in April.
Via: Autohome.