This is the new Citroen DS9 shooting brake concept during a photo shoot in Paris. The DS9 previews Citroen's new DS-flagship and will officially debut at the Beijing Auto Show next month. Design is based on the Citroen Metropolis concept sedan that debuted at the Shanghai World Expo back in 2010.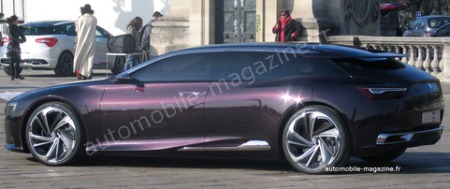 The Citroen DS9 will be made in China by the new 'CAPSA' Chang'an-PSA joint venture, the same jv will also make the DS3 and DS5. Production however of those cars won't start before mid 2013. The DG9 still seems very much a concept car and production seems still years away. When it finally happens the DS9 has to compete with other locally made executive car such as the Audi A6L, the BMW 5Li, the Benz 300L and the Volvo S80L.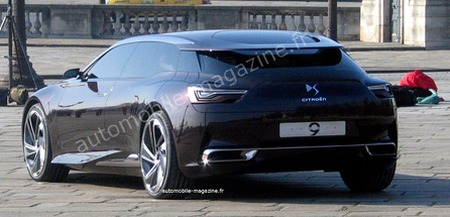 What powers this concept is yet unknown, the Metropolis was powered by a fancy V8 Hybrid. Downsizing is da word so maybe this DS9 gets some V6 clean-hybrid-thing, the final production version will then get standard patrol 4-cylinder and 6-cylinder engines.
Pics via: AutomobileMagazine.fr