Here we have a very smooth customized Volkswagen Bora, sporty in white. A lotta work went into the nose that is almost completely new compared to the standard Bora. New bumper, new lights and a new grill. There was no place left in the middle for such a useless thing as the license plate which had to move to the left. Also useful for speed cams…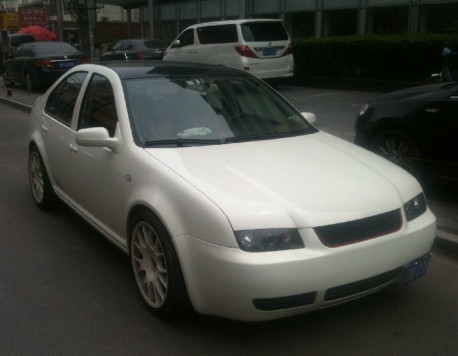 Fat-ass body kit, white alloys, racy tires, this Bora is white lightning. Underneath sits a fourth generation (A4) Volkswagen Bora, better known as Jetta in most of the world. It was the first Bora that was made in China, by the FAW-Volkswagen joint venture.
It has since been replaced by the 'New Bora' which arrived in 2008. The old Bora was then renamed 'Bora Classic' and continued two more years, sold next to the New Bora, before it was finally killed in late 2010.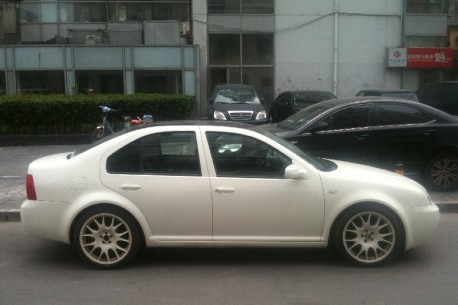 The old Bora was a popular car, cheap and reliable. A bit boring too, which is why many buyers decided to sex it up a bit. The base Bora was powered by a 140hp 1.6. Volkswagen however acknowledged it needed more power when it launched the China-only Bora R in 2007, powered by a very hot 180hp version of VW's 1.8 turbo.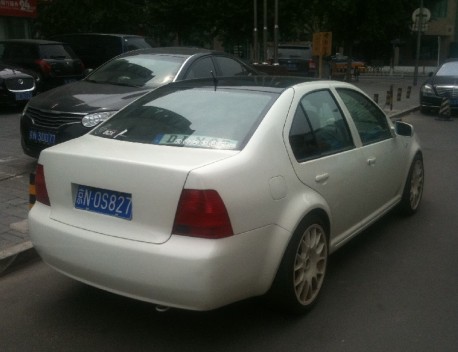 This Bora ain't boring…