Here we have a picture perfect Mercedes-Benz R129 SL500 in white with a black hood, seen on a second hand car market in Beijing. It was for sale for a steep 499.000 yuan or 78.000 USD. Not cheap indeed but a extremely rare vehicle for China since the R129 was never officially imported. Some arrived via the gray market but I've never seen such a good example in China.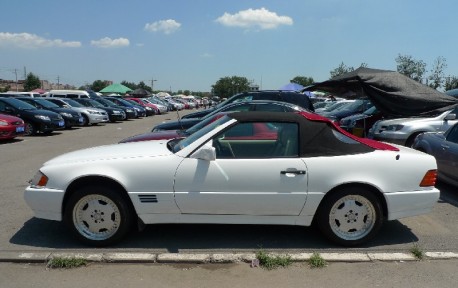 Note AMG alloys and big 19 inch tires! The R129 was made from 1989 until 2001, some 213.000 cars were built. This brilliant white car is a 500SL, powered by a 5.0 liter V8 engine that pooped out 322hp and 469nm. It is a pre-facelift model, made from 1989 until 1995, easily recognizable by the front fender vents, before 1995 they had 3 squared slots, after 1995 two rounded slots.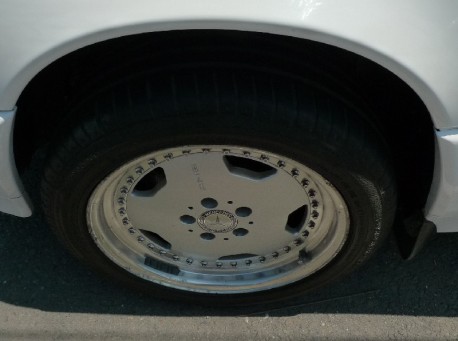 Alloys very 1990's, very shiny.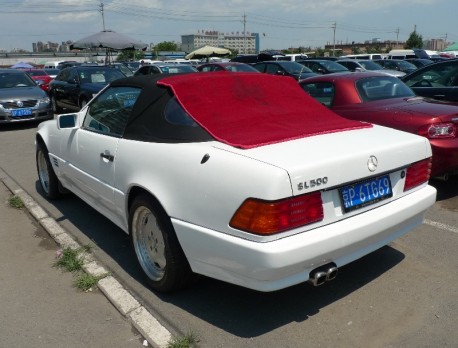 Poor SL500 temporarily used as a drying rack. Owner of the shop was very busy cleaning two Mazda MX-5, one kinda cool one in red with a hard top, see right of Benz, also see first pic.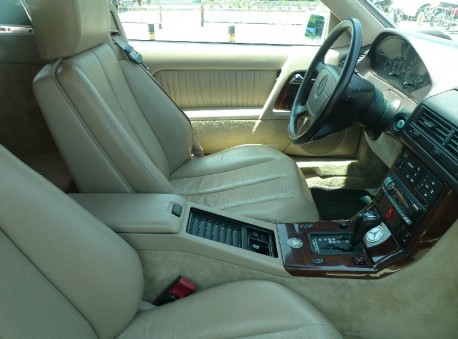 Interior seemed to be in good condition, leather a bit worn out, can be repaired easily in China. Automatic gearbox. Benz logo in front of gear lever is after market. Take it out!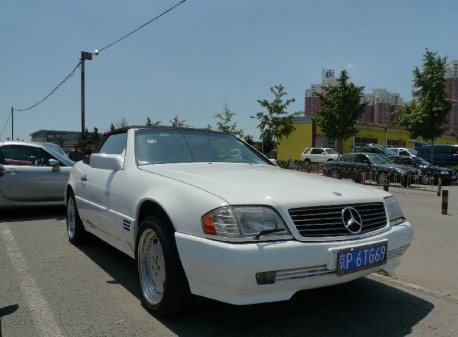 Ready to cruise under a blue sky, a seldom thing to see in Beijing…