The latest spy shots of the upcoming Hongqi L7 are coming in one by one. Last week we had the first pic of the front, now we got the first pic of the back. The Hongqi L7 debuted as a concept on the Beijing Auto Show in April, the production version will be launched on the China auto market next year.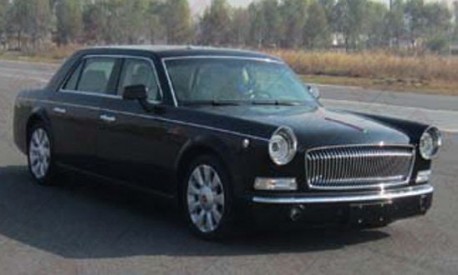 The Hongqi L7 is the short-wheelbase version of the massive Hongqi CA7600L (aka Hongqi L9) state limousine. The L7 will have to compete with the fine offerings from Bentley and Rolls-Royce. Power comes from a 400hp 6.0 V12 engine and price will start around 5 million yuan, or 816.000 USD. Size L7: 5555/2018/1748, wheelbase is 3435. Size L9: 6395/2008/1720, wheelbase is 3800.
The market for this sort of vehicles is always small, but there are quite some businessmen in China who are willing to pay big money for a big Hongqi, not because it is better than a Bentley but because it is Chinese. Some reports in Chinese media indicate the first batch L7 will be reserved for high ranking and big earning officials in state-owned enterprises.
Via: 163.com.