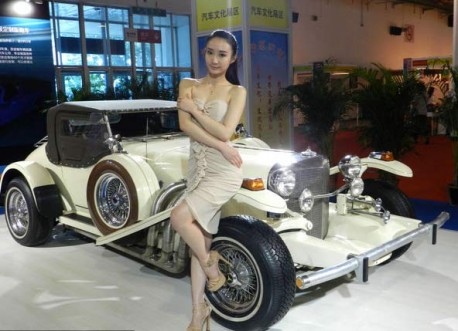 Investment in Vintage Cars set to boom on the Chinese mainland, says Ian Wade, collector and investor of vintage cars.
Wade has made antique car collecting his lifelong hobby. At more than 70 years old, he still holds a job in order to fund his expanding collection. "For my beloved cars, I cannot retire. But I enjoy my work to support and expand my collection," said Wade, who is a board member or director of five Chinese companies, including China Zenix Auto International Ltd.
With more than 50 years of corporate management experience, the Hong Kong-based British antique car collector made his name in China by providing successful leadership at A.S. Watson Group, a wholly owned subsidiary of Hutchison Whampoa Ltd, from 1982 to 2006.
As group managing director, he expanded Watson's retail business from 16 stores to 7,700, serving approximately 25 million customers a week across more than 30 countries. The company now employs more than 100,000 people and has more than 35 brands.
"That's bygones. All I want to talk about now is cars," said Wade, who has a private museum in Yorkshire in the United Kingdom with 105 antique cars, the majority of which are Italian brands, such as Maserati, Alfa Romeo and Lancia.
As the largest private collector of Maseratis, Wade cooperated with the Italian sports car brand to exhibit some of his precious cars in Shanghai in November, providing an opportunity for Chinese antique car fans to get up close and personal with the widely appreciated racing cars.
"In my view, a resurgence in antique car collecting is in the making among Chinese car enthusiasts and the newly rich. Some mainland collectors have become interested in antique cars, influenced by their friends from Europe, the United States and Hong Kong," said Wade.
More importantly, "during a global economic downturn, there is still enough capital among car collectors and rich investors on the Chinese mainland," he added.
"I hope more Chinese will join antique car collecting, and I strongly believe it will happen. That way the value of my cars will boom from the increasing enthusiasm," he said with a laugh.
Wade said that a good example of investing in antique cars is his Maserati 250F. "I spent 500,000 pounds ($809,250) on the legendary car, which won 55 races in the 1950s. Now its value has surged to $2.5 million."
Via: ChinaDaily.