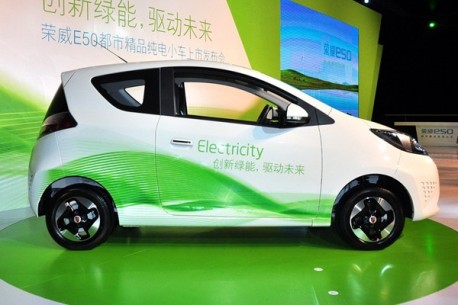 A policy aiming to encourage more local residents to buy energy-saving electric cars – by offering free license plates and rebates – has been unveiled by the Shanghai authorities.
The city's move comes two years after the central government released detailed subsidy measures to boost the new-energy vehicle market.Under the central government measures, a rebate of up to 60,000 yuan ($9,625) is offered on the purchase price to buyers of battery-powered cars, while the Shanghai municipal government is offering an extra subsidy of up to 40,000 yuan and a free license plate.
"It is a turning point for Shanghai to promote new-energy vehicles, which will also bring more confidence and profits to local automobile retailers, auto parts businesses and other car-related companies," said Rong Wenwei, general manager of Shanghai International Automobile City.
Local retailers of electric vehicles have already benefited to a certain extent from the subsidy policies.
"We've sold 500 new-energy cars since the launch of our store two years ago, with the majority of buyers coming from Shanghai," said Zeng Xiangyi, executive director of TZGEV Ltd, which opened the first electric car 4S store in Shanghai in 2011, according to China Business News.
The development of the electric vehicle industry has been a priority of the Ministry of Science and Technology for more than a decade.
The Ministry of Industry and Information Technology and the National Development and Reform Commission have issued about 20 regulations over the past 10 months to regulate and promote the use of electric vehicles nationwide.
However, there are certain problems to solve before electric vehicles achieve mass appeal, said Rong. "Battery performance, cost and the lack of recharging facilities need to be addressed to convince motorists to choose electric vehicles," said Rong.
SAIC Motor Corp Ltd has set up 1,170 recharging stations in Shanghai, but most of these are in suburban areas. Rong added that the local government is working on the construction of supporting facilities for electric vehicles, a move which is essential to expand the electric-vehicle market.
However, analysts suggested that the policy won't lead to a rapid increase in demand for new-energy vehicles. "The policy will attract certain consumers who want to buy low-cost cars, but won't immediately boost the development of new-energy vehicles," said automobile market analyst Feng Shiming.
Via: ChinaDaily.