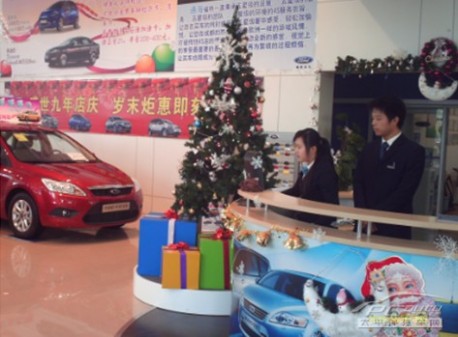 Ford and its joint ventures in China sold a record 70.510 vehicles in the country in December, up 43% from a year earlier, the U.S. car maker said Monday. In the January-December period, sales at Ford and its Chinese partners rose 21% to 626,616 units.
Ford will invest big in China to speed up sales even faster. Ford will introduce 15 new vehicles, double production capacity, and double its dealership network, all before 2015.
Ford's passenger car joint venture Changan-Ford (CAF) broke records as well this year, with 418,500 Ford-brand cars sold in 2012, a significant increase of 31 percent from 320,658 in 2011. CAF also had a record December, selling 49,212 Ford-brand passenger cars, up 60 percent from 30,788 in 2011.
The Focus, which was repeatedly named the best-selling nameplate in China in 2012, continued to drive great sales performance in December, with 36,868 cars sold. For the year, Focus sales totaled 296,360 units.
Sales of the imported Ford Edge were up 44 percent in December and 96 percent for the year with 8,108 cars sold in 2012 compared from 4,144 in 2011. Year-to-date Mondeo sales are also on the rise, up 6 percent in 2012 with 68,334 cars sold.
Sales at Jiangling Motors Corporation (JMC), Ford's commercial vehicle investment in China also broke both monthly and annual records. December sales grew by 14 percent with 19,941 vehicles sold compared from 17,509 vehicles last year while JMC's 2012 total sales reached 200,008 vehicles, up 3 percent from 194,588 last year.
All sales figures quoted are based on wholesale numbers.
Via: 4-Traders.