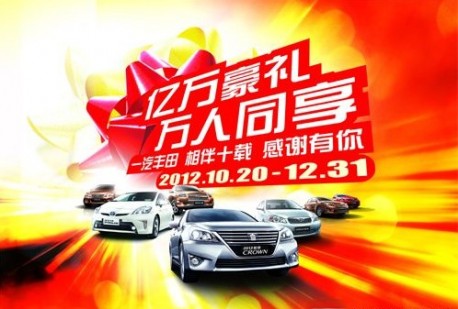 Japan's Toyota Motor Corp. has released its sales numbers for the month of December in China, showing a 15.9% decline from the same month a year before. In December 2011, Toyota and its two Chinese partners sold 108,000 cars in the country, while last month only saw 90,800 vehicles drive off the lots.
While the decline certainly highlights the continuing effect of the diplomatic tensions between China and Japan over the disputed Senkaku/Diaoyu Islands, it is also following the trend of recovery since the mid-September outbreak.
That month saw Toyota's sales down by nearly 50%, the worst among Japan's auto makers in China, moving into October with a 44% decline over the year before. November showed strong signs of recovery, only down by 22%, and now December with 15.9%.
A senior executive with the auto manufacturer, who spoke under anonymity, says that the pace of recovery over the last two months has been better than expected. He attributes the progress to strong discounts and other sales incentives in December, along with the fear of owning a Japanese car among Chinese people slowly fading.
In 2010, Toyota set a target of selling 1 million cars in China, predicting 2012 would be the year of success, but the territorial dispute put that goal far out of reach. Will 2013 be the year of success? One could say that all depends on how well the newly elected Prime Minister Shinzo Abe improves relations with Japan's largest Asian neighbor.
Via: JapanDailyPress.