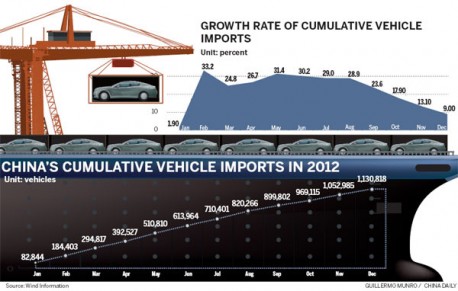 Despite slowing to single-digit growth, China's annual passenger vehicle imports surpassed 1 million units for the first time in 2012. China imported 1.07 million vehicles last year, an increase of 9 percent on a year earlier, China Automobile Trading Co Ltd said on Tuesday.
However, the high inventory that has been accumulated and the fierce competition among foreign brands will be challenges in 2013, according to analysts. Growth was down 25 percent year-on-year in the fourth quarter, according to China Automobile Trading.
"The increase in the first three quarters was based on an unhealthy price war in the market caused by oversupply," said Wang Cun, chief analyst and marketing manager with China Automobile Trading.
"The serious eurozone debt crisis was the main reason, as the European automakers all transferred their focus to China."
Luo Lei, deputy secretary-general of the China Automobile Dealers Association, agreed with Wang.
"Due to their high expectations of the country, the European automakers brought too many vehicles to the Chinese market," said Luo. "Most of them targeted a 40 to 50 percent growth in the China market.
"The price war which squeezed dealers' profit margins, as well as the high inventory, made them realize the severity of the situation and they slowed their crazy imports in the fourth quarter," added Luo.
According to Wang, in September, most of the automakers had a high inventory of imported vehicles, almost 3.5 times their monthly sales.
"More than half of the dealers trading imported vehicles faced losses in 2012, due to shrinking profit margins and high operating costs. And the high inventory will continue to pressure them in the first two months this year," said Wang, who predicted a merger and acquisition trend among struggling automobile dealers this year.
Though facing many uncertainties and challenges, Wang said that he expects China's imported vehicle sector to grow by 10 percent this year.
He attributed his confidence to the 27 new models, mainly sport utility vehicles and compacts, that have become popular with Chinese consumers recently.
Via: ChinaDaily.