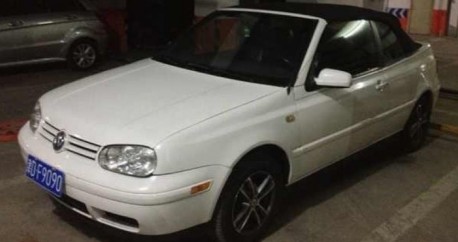 A very smooth MK4 Volkswagen Golf Cabriolet, seen in an underground parking lot in the great city if Chengdu in Sichuan Province. The cabriolet is an extremely rare spot because it was never officially exported to China. Some cars however arrived on Chinese shores via the gray market or diplomatic channels, and this particular car made it all the way to the mountains of Sichuan in the center of the country.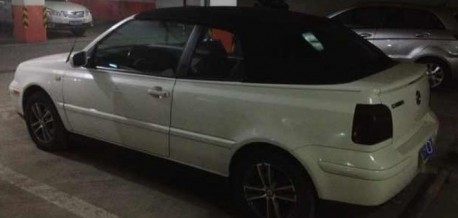 This white example in Chengdu loox dusty but in good shape, the roof however needs some urgent maintenance. Interestingly the Volkswagen MK4 Cabriolet is actually a facelifted MK3 Cabriolet, modernized with some bits and pieces to make it look like the MK4. The interior largely remained the same as the MK3. Some 'purists' call the poor vehicle therefore the 'MK3.5 Cabrio'.
Other great Golfs we met in China: matte black, pink-alloy Cabrio, pimped-red Golf, matte orange Golf, lowrider Golf, pink Golf,  blue-pink Golf, a Citi Golf, a pantzer Golf and a Bora-Golf.