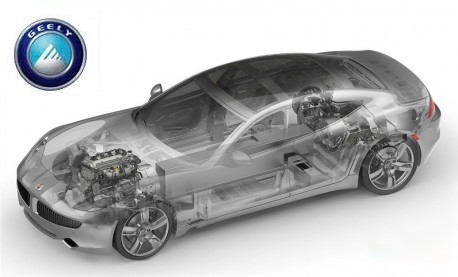 China's Zhejiang Geely Holding Group is favoured to secure a majority stake in troubled U.S. electric car maker Fisker Automotive, according to two sources familiar with Fisker's search for a strategic investor or partner.
Fisker, the Anaheim-based plug-in hybrid maker, is currently weighing bids from two Chinese auto makers: Geely, the owner of Sweden's Volvo, and state-owned Dongfeng Motor. The interest in Fisker reflects China's strong push into alternative fuel cars as it seeks to foster the green technology sector and clear the increasingly polluted skies of its cities.
The knowledgeable individuals said both offers, which Fisker received in the last three weeks, were worth between $200 million to $300 million. A deal would give the suitors a majority stake in the southern Californian company, they said.
The sources, who are close to Fisker, said Geely appeared to be the preferred suitor.
Fisker's corporate leaders and their advisers believe Geely is "more serious" and "passionate" about Fisker and its technology, one of the individuals said.
The Hangzhou-based company also "can move fast" in making decisions — unlike Dongfeng, whose responsiveness could be hampered by its multi-layered decision-making structure typical in a Chinese state-owned enterprise, the source said.
That quality is likely to work against Dongfeng, since Fisker is under a tight deadline to find a suitor, he added.
"Most of all, with Geely we're dealing with one decision maker," the individual said, referring to its charismatic founder and chairman, Li Shufu.
Geely's Li is also deemed a better suitor due to his experience in making cross-border acquisitions. In 2010, Geely acquired all of Volvo from its previous owner Ford Motor Co.
"Overall, we think Geely is a better fit," the knowledgeable individual said.
The sources noted that Geely had already sent a team of engineers to Anaheim to evaluate Fisker and its technology for battery-powered electric cars with a small gasoline engine used to extend the car's driving range.
Victor Yang, a Geely spokesman in Hangzhou, said: "we are not in position to comment on this at the moment."
Dongfeng also declined to comment. "Dongfeng pays attention to all potential opportunities of international cooperation to cope with future market development both at home and abroad," said spokesman Zhou Mi in an email on Monday.
INTEREST FROM EUROPE, SOUTH KOREA
Fisker — the producer of the $100,000-plus Karma which it began selling in late 2011 — fielded interest from several companies including from both South Korea and Europe.
But it received only two firm bids, from Geely and Dongfeng, the sources said. Fisker is hoping to sew up a deal by mid-March, another person said.
Any deal is likely to also involve another Chinese player, Wanxiang Group, an auto parts maker that has purchased bankrupt U.S. lithium-ion battery maker A123 Systems, Fisker's primary battery supplier. A Wanxiang executive declined to comment.
"The company has received detailed proposals from multiple parties in different continents which are now being evaluated by the company and its advisors," Fisker spokesman Roger Ormisher said in an email over the weekend.
He declined to comment further.
A strategic pact would give Fisker the funds to start building its second and more affordable model, the Atlantic plug-in hybrid, which is expected to start at around $55,000 and be Fisker's high-volume vehicle.
Over the last several months, Fisker Chief Executive Tony Posawatz and other Fisker executives have traveled to Europe and Asia to meet investors and automotive makers.
The two bids Fisker is weighing now stem from the trip to Asia that Posawatz and his top executives made in late January.
During that trip, they traveled to Hangzhou, where Geely is based, to meet its chairman Li and his technology chief, Frank Zhao. They also traveled to Wuhan for a meeting with top executives from Dongfeng and then to Beijing for a meeting with Beijing Automotive Industry Holding Co.
The search for financial backers comes after a tough 2012 marred by the rocky and delayed introduction of Fisker's Karma, A123's bankruptcy and an election season that turned the U.S. government-backed company into a political punching bag.
Via: FOX.