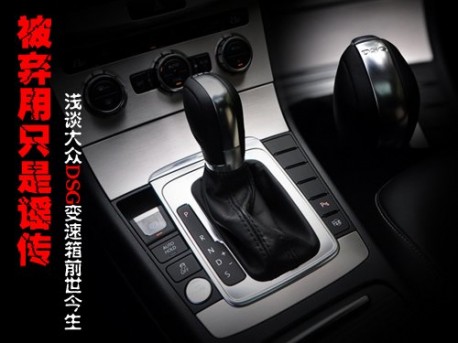 Volkswagen has agreed to recall 384,181 vehicles with defective gearboxes in China, the country's quality watchdog said on Wednesday. Yesterday, Volkswagen announced a recall for all Skoda's equipped with a DSG transmission.
The General Administration of Quality Supervision, Inspection and Quarantine (AQSIQ) announced in an online statement that Volkswagen has filed the recall plan with the administration, after repeated pressing from consumers and media.
According to the statement, the carmaker will recall vehicles that have been the subject of accusations of malfunctions in their direct gearboxes (DGB) starting April 2.
The move was prompted by a demand from the AQSIQ on March 16 after a State-run television station broadcast a program showing that malfunctions in the DSG transmissions could cause a sudden loss or gain in engine power, which can pose safety hazards.
Zhang Yuanping, a spokesperson for the administration, said in a previous news briefing that China has probed the case since March, 2012 and made thorough research to ascertain the malfunction failure.
Last year, Volkswagen extended its DSG quality guarantee period in China to 10 years but refused to launch a recall, as reported by media, out of concerns over repair costs.
Analysts estimated the recall may cost the auto giant some 3 billion yuan ($478.35 million) in fixing problems, replacing flawed parts and updating software.
Products involved include imported vehicles from Germany and cars produced by two joint-owned enterprises in China.
Vehicles on the recall list are:
A total of 7,139 imported units of Scirocco 1.4TSI, Golf Variant, and Cross Golf that were produced between December, 2008 and September, 2011;
A total of 245,999 units of New Bora 1.4T, Golf A6 1.4T, Golf A6 1.6T, Sagitar 1.4T, Magotan 1.4T, CC 1.8T, New Sagitar 1.4T, New Magotan 1.4T and New Magotan 1.8T produced by Faw-Volkswagen during the period of May, 2009 and January, 2012 and of December, 2012 and February, 2013, as well as imported Audi A3 1.8T produced between February, 2010 and June, 2011;
A total of 131,043 units of five-seat Touran 1.4T, seven-seat Touran 1.4T, Octavia 1.8T, Octavia 1.4T, Lavida 1.4T, Superb 1.4T, New Passat 1.4T and New Passat 1.8T produced by Shanghai Volkswagen between October, 2009 and May 2012 and between December, 2012 and March, 2013.
Via: ChinaDaily.