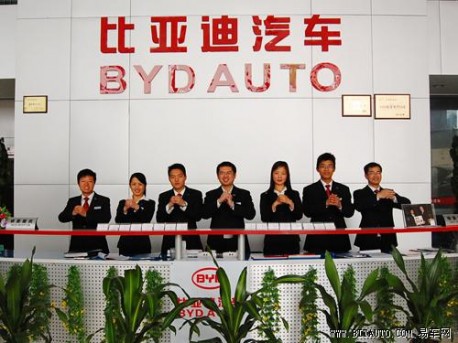 Chinese car and battery maker BYD announced Monday that its 2012 profits tumbled 94.12 percent year-on-year amid a bleak solar market, but forecast robust profits for the first quarter of 2013.
The Shenzhen-based company specializing in electric vehicles, rechargeable batteries and photovoltaic (PV) cells reaped 81.38 million yuan ($13 million) in net profits in 2012, down 94.12 percent year-on-year, according to its annual report filed with the Shenzhen Stock Exchange.
Meanwhile, its business revenues dipped 4.04 percent year-on-year to 46.85 billion yuan, with basic earnings per share down 95 percent to stand at 0.03 yuan.
The company attributed last year's contraction in profits mainly to its lackluster solar energy business, calling 2012 "an extremely tough year for the Chinese solar PV industry" in its statement.
Its revenues from selling both electric- and fossil fuel-powered vehicles rose steadily in 2012, while its business in cell phone parts manufacturing and assembling was dented by the narrowing market shares of its major clients, the company added.
For the first quarter this year, BYD forecast a profit between 100 million and 140 million yuan, due to strong auto sales in the first three months and a recovering solar market, according to the statement.
Encumbered by debt, Chinese solar panel giant Wuxi Suntech declared bankruptcy last Thursday, casting a shadow over the already ailing Chinese solar PV industry.  BYD's stocks has risen 1.28 percent to 23.7 yuan per share as of 9:57 am on Monday.
Via: ChinaDaily.