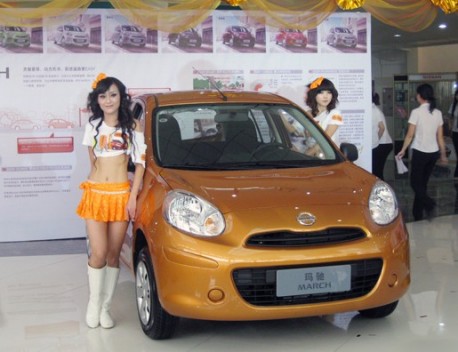 Friction between China and Japan delayed by one year Nissan Motor Co's plan to get 10 percent market share in China, Renault-Nissan Chief Executive Carlos Ghosn told Reuters Insider on the sidelines of the New York auto show on Wednesday.
Ghosn said he is now giving his Nissan team until 2017 to hit its goal, instead of 2016. Nissan accounts for between 6.5 percent and 7 percent market share in China, the world's largest auto market, and is the leading Japanese automaker there. In the quarter that ended in June 2012, before tensions arose between the two nations, Nissan said its share in China was 7.6 percent.
"We practically lost one year, so I'm giving them one more year to reach the target … and hoping for the relationship between Japan and China to get better and better," Ghosn later told Reuters in a separate interview.
A dispute between China and Japan over the Diaoyu Islands in September led to violent protests and a boycott of Japanese-branded goods in China, affecting auto sales.
"Sales are normalizing," Ghosn told Reuters Insider. "We're getting back to where we were last year, which is good news."
He said Nissan's sales were returning to China faster than his Japanese rivals – Toyota and Honda.
As for previously announced plans for a Renault plant in China, Ghosn said the company just needs final approval from the Chinese government.
"I can't do more than this," he said of the wait. "The project is ready, everything is ready, our partners are ready. I think it would be fair to say something is going to happen before the end of this year."
He added that he was still comfortable with the targeted start of production at that plant during 2014 to 2016.
In Europe, Ghosn said Renault was planning for no growth in the market through 2016, with sales stabilizing at best. He said industry sales are tracking to be down 10 percent in the first quarter, but reiterated that he sees them down 3 percent to 5 percent for the full year.
Ghosn later told reporters that he anticipates US industry sales topping 15 million vehicles, which would be up from 14.5 million last year. He reiterated that he believes Nissan can achieve its 10 percent target for US market share, from about 8 percent currently, by the end of 2016.
Another Nissan executive said the company expects its Nissan and Infiniti sales in the US market in March to top 132,000 vehicles, up from almost 100,000 in February.
When asked about efforts by the United Auto Workers union to organize workers at Nissan's US plants, Ghosn said it was not the first or last time the union would attempt it. He said workers would decide that issue, but the company prefers direct communication with its employees.
Ghosn more directly opposed the UAW in 2001. As a union vote was drawing near at the company's plant in Smyrna, Tennessee, Ghosn made a big-screen video pitch to workers there. "Bringing a union into Smyrna could result in making Smyrna not competitive," he said.
Smyrna workers turned back the UAW, 3,103 to 1,486.
Via: ChinaDaily.