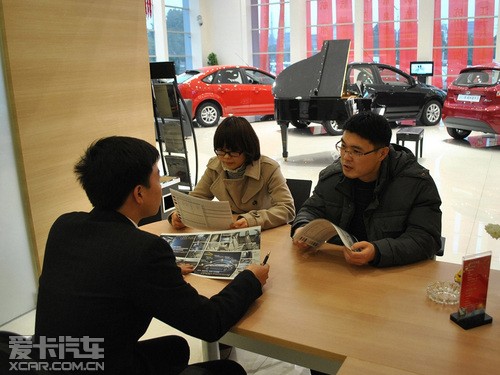 China's auto sales in March rose 13.3 percent over a year earlier but Japanese automakers suffered more declines, an industry group reported Thursday. Customers in the world's biggest vehicle market bought 1.6 million cars, according to the China Association of Automobile Manufacturers (CAAM). It said total sales including trucks and buses were just over 2 million vehicles.
Drivers bought a total of 4.4 million cars in the first three months of the year, up 17.2 percent from a year earlier, according to CAAM. Total vehicle sales rose 13.2 percent to 5.4 million.
Global automakers are looking to China to drive revenues but competition is intensifying as growth that spiked to 45 percent in 2009 has declined to more sustainable rates. German and Korean automakers had March sales gains of over 20 percent, CAAM said. It said sales by U.S. and French brands grew faster than the market but gave no details.
Japanese automakers suffered a 17.8 percent decline in sales overall. They have been hurt by a territorial dispute between Beijing and Japan over a group of islands in the East China Sea. Analysts say sporadic protests in China have made buyers reluctant to be seen at Japanese dealerships.
March's growth was lower than the 19.5 percent rate in January and February. But it was stronger than 2012's full-year growth of 7.1 percent for cars and 4.3 percent for vehicles overall.
Sales growth probably was driven in part by price cuts, which will squeeze profits, said Zhang Xin, an industry analyst at Guotai Jun'an Securities in Beijing.
"Bigger sales does not mean better profit, which could be a problem in the future," said Zhang. As for Japanese automakers, they are "still quite competitive," he said. "Once the political problem is quiet, sales could come back."
Sales in March by Chinese domestic brands rose 14 percent to 688,000 vehicles, the group said.
The communist government is promoting auto manufacturing and ownership but has tried to fine-tune policies to encourage sales of smaller, more fuel-efficient vehicles. Sales in some areas also have been damped by restrictions imposed on ownership to combat smog and congestion.
The government said in January total vehicle sales this year should rise to 20.8 million from 19.3 million last year.
GM reported earlier that sales by the company and its local partners rose 12.6 percent in March to 290,538 vehicles. It said that was its second-highest monthly sales in China ever. Ford Motor Co. said sales by the company and its local partners in China rose 65 percent in March to a new monthly record of 81,387 vehicles.
Via: Yahoo.