The facelifted Jiangling Yusheng SUV has been launched on the Shanghai Auto Show in China. The facelift includes an all-new front with new head lights, a new grille, new bumpers, new fog lights and a much improved interior. It got a new name as well, from now on the 'Yusheng' will be called 'Yusheng S350'.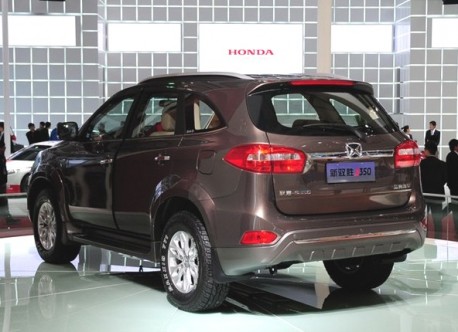 The facelifted Yusheng S350 will be launched on the Chinese car market in June. Price will range from 130.000 to 190.000 yuan. Giant and cheap SUV's like the Yusheng S350 are still very popular in China's second and third tier cities, where price matters more than anything else. Size: 4775mm/1895mm/1862, wheelbase is 2750.
There will be two engines available, both from Ford: a 2.4 Duratec tubodiesel, and a 2.0 turbo mated to 6-speed automatic gearbox.The latter is also used in the China-made Chang'an-Ford Mondeo. Jiangling and Ford are good friends, the jointly own the successful Jiangling-Ford joint venture that makes various variants of the Ford Transit in China.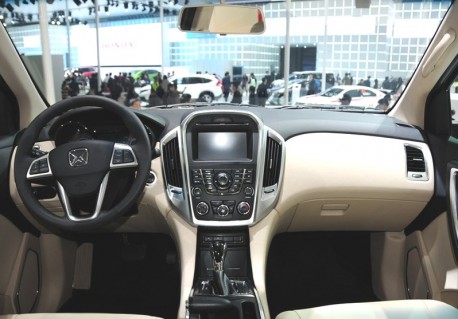 Completely new interior with lighter colors and a mid-size screen in the center console. Quality of the materials much improved compared to outgoing Yusheng. Giant SUV's like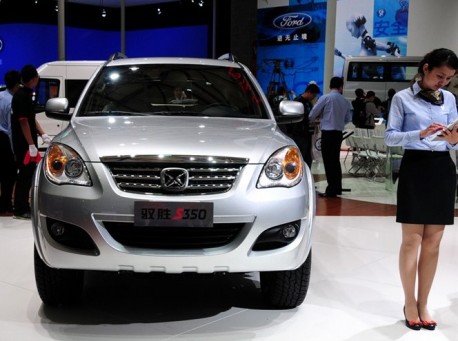 New front very impressive, but booth babe doesn't seem to care.