A fantastic black-over-yellow Bugatti Veyron, seen in central Beijing by reader Ali Khalili, thank you for the pictures! The mighty Bug was spotted when it was loaded into a container in front Volkswagen's China headquarters. The Veyron had been on show in the attached showroom for a while, in the same place where I earlier on met a Veyron Blue Centenaire and a Lamborghini Murcielago LP650-4 Roadster.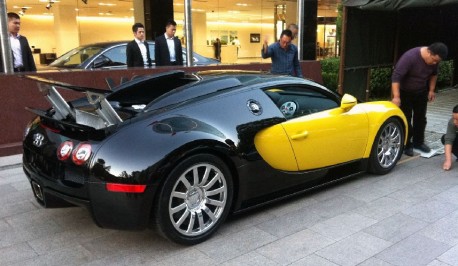 The Veyron was on the move to its happy buyer, China being the second biggest market world for Bugatti, and likely the biggest as soon as the Bugatti 16 Galibier hits the supercar-hungry Chinese market. How many Veyrons roam the roads in China is unknown, but we know of at least some 15 cars. More 'new' Veyrons are coming in all the time, mostly imported directly from dealers on the US West Coast.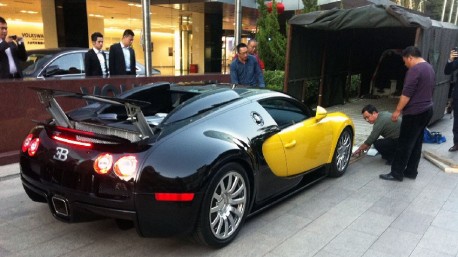 When new the Bugatti was priced at a manic 24.5 millon yuan or 3.88 million USD. Bugatti launched two China limited editions of the Veyron that were even more expensive: Bugatti Veyron Super Sport Edition Merveilleux, spotted, Shanghai, and the Bugatti Veyron Grand Sport Special Edition. Last week's Shanghai Auto Show saw the world-debut of the very limited Bugatti Veyron Grand Sport Vitesse WRC. Only 8 will be produced and we heard 3 will come to China, for 28.8 million yuan a piece.