An extremely rare Bugatti Veyron L'Or Style Super Sport supercar, Spotted in China in the great city of Shanghai by Six-speed Parking. This great example is painted in white over light blue, and fitted with multispoke matte chrome alloys.
The Bugatti Veyron L'Or Style is a small series of ultra exclusive Veyron variants with a paint job based on the design of the one-off Bugatti Grand Sport L'Or Blanc. This is the first time we see a L'Or Style Super Sport.  Last year in October we saw a black over red Grand Sport Vitesse, in Shanghai as well. How many L'Or Style Veyrons exist worldwide is somewhat of a mystery, but most sources say no more than five.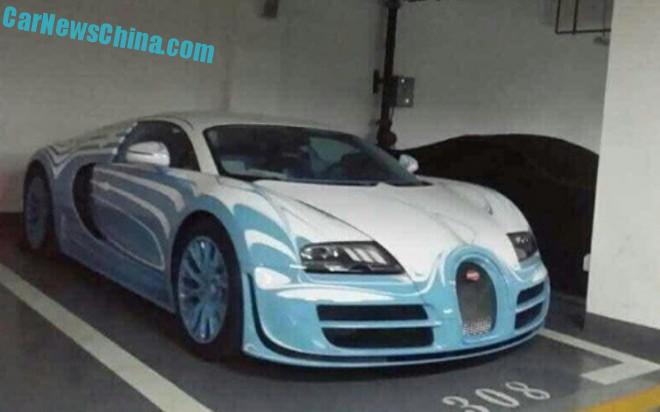 The same vehicle was also seen in an underground parking lot by SmileCarCar.
The Bugatti Veyron 16.4 L'Or Style Super Sport is powered by a quad-turbocharged 8.0 liter W16 with 1200 hp and 1500nm, good for a 375km/h top speed and a 0-100 in 2.6 seconds. No word on price but exclusive Bugatti's are notoriously expensive. When new, a base Veyron started at 24.5 million yuan or 3.88 million USD. This brilliant white over blue L'Or Style was likely at least 30 million.