These are the very first spy shots showing an all-naked 2014 Volkswagen Golf 7 R. The black vehicle was spotted when it arrived in the port of Tianjin for tests in China. The 2014 Golf R is expected to debut internationally on the Frankfurt Motor Show in September. The Golf 6 R was a tremendous success in China so Volkswagen wants to make sure the 7 R behaves well on Chinese roads.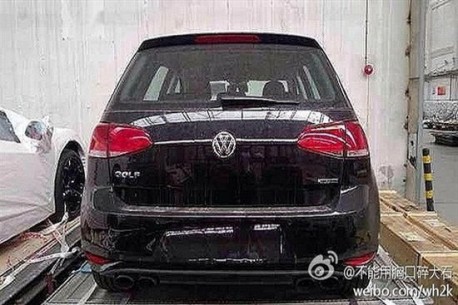 Twin-double exhaust pipes show this Gold means business. The Golf 7 R will be powered by a pepped up variant of the 2.0 TSI with an output of 290hp and 379nm. The original Chinese article says the scale of the speedometer of this black car went up to 300km/h.
The Golf 6 R was imported into China, priced at 398.000 yuan or almost 65.000 USD. The new 7 R will be imported as well, while the base Golf 7 will be made in China by the FAW-Volkswagen joint venture.