A very badass and very black Mercedes-Benz SLR McLaren Roadster, seen in the great city of Zhengzhou in Henan Province. Exactly ten days ago we met this particular vehicle for the first time, flanked by some other speedy metal. Today we are all alone with the mighty Benz.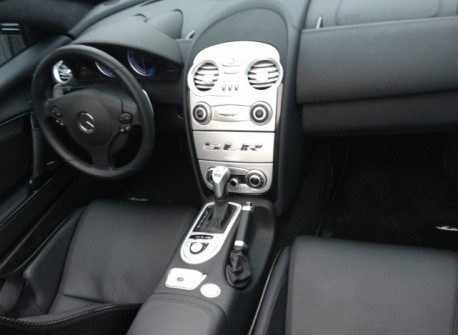 Black outside and in. Fortunately the standard chrome brings at least a little light. The SLR Roadster was made from 2003 until 2010. Power came from a big AMG-built  5.4 liter supercharged V8, good for 617hp and 780nm. Top speed is 327km/h and 0-100 is gone in 3.4 seconds.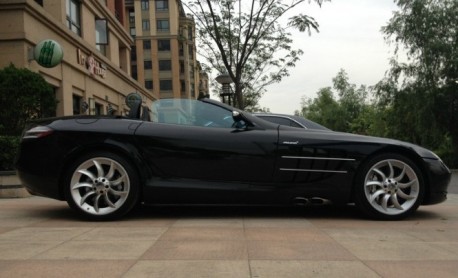 A convertible with the windows up is not very manly. The SLR was never officially exported to China. Most examples on the Chinese mainland arrive via the gray market, usually from dealers on the U.S West Coast. We have a small collection: shopping mall, matte gray, Roadster 722S, with babe, and a matte black fighter jet. Last year another black SLR in Shanghai changed hands for a manic 7.2 million yuan or 1.17 million USD. There is money, there is a market, China wants all the supercars it can get…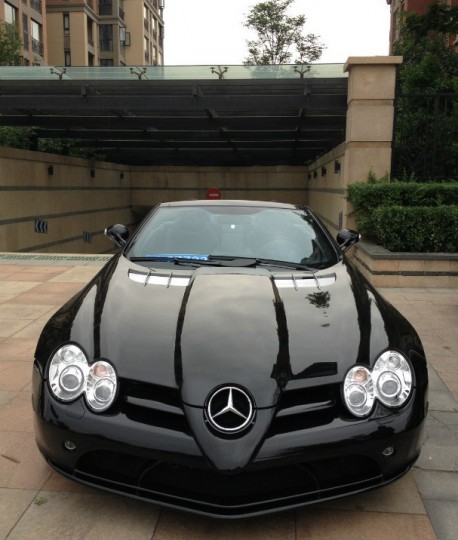 In front of an exit of a underground parking garage. Parking any car in an underground parking garage is not very manly either. But this is a good Benz!