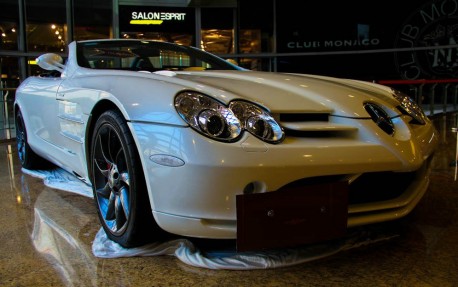 A Mercedes-Benz SLR McLaren Roadster seen parked inside the hyper coolio MixC shopping mall in the great city of Shenzhen in Guangdong Province. Competition between high-end shopping malls is extremely fierce in every big Chinese city, putting some supercars up for show might attract a few buyers more. The MixC is a good place to see some speedy metal, earlier on we met a Lamborghini Murcielago and a Ferrari FF, but those were outside, driving, as they should.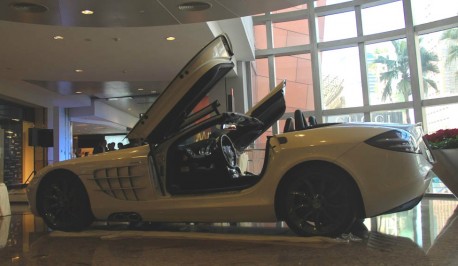 Seeing a mighty machine like an SLR parked inside a mall used just for decoration makes a motor man feel sad, and indeed, I do feel sad. Engine talk will make me happy again! The SLR Roadster was powered by the same engine as the Coupe, a big AMG-built  5.4 liter supercharged V8, good for 617hp and 780nm. Top speed is 327km/h and 0-100 is gone in 3.4 seconds. Now, let's kill some shoppers, especially those dumb shoe-buying girls who see this Benz and say: "Ferrari!"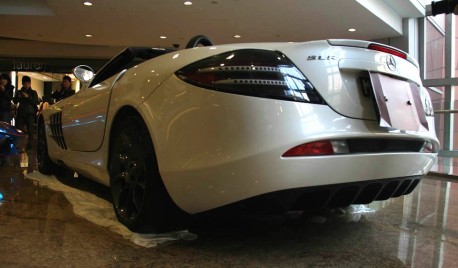 This particular car is painted in shiny white made even more pretty by the dark-black alloys. The SLR McLaren was made from 2003 until 2010 and amazingly never officially exported to China. Some however made it to the country via the gray market. We have seen a few: matte gray, Roadster 722S (in Shenzhen as well!), with babe, and a matte black fighter jet.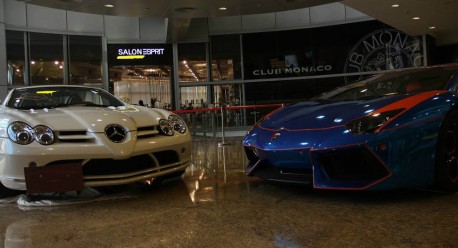 Surprise. There was another supercar around, we met it before, it is by far the most pretty Lamborghini Aventador in the world.