A wondrous white Porsche 911, seen in the great city of Chengdu in Sichuan Province. Its license plate reads 911HY and that is almost as cool as KK911, A91111, another A 91111, or N 997P1.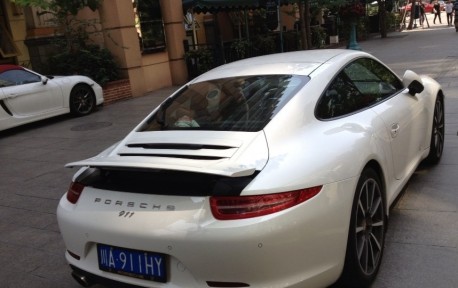 Note white Boxster on the left. The Porsche 911 is the third most popular Porsche in China, after the Cayanne and Panamera. Price in China starts at 1.33 million yuan or 215.000 USD.
Time now for our Famous China-Porsche 911 Collection™: body kit, license, shiny green, shiny blue, baby blue,  991 Turbo prototype, 911 Turbo S, 993 Carrera RS, pink cabrio, matte black, matte black 911 GT3, 964 911 RS America, yellow 964 911, pink 996, shiny blue, orange, Edition 918 Spyder, matte-black, pink, ugly body kit, gold, and the China-only Anniversary Edition.