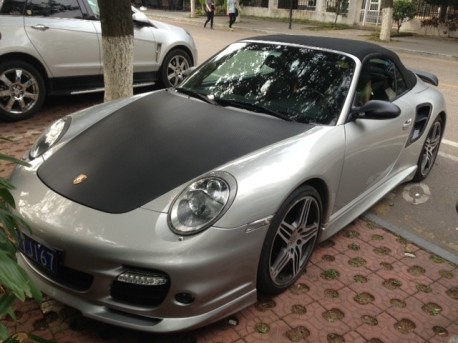 A fantastic silver-grey black 997 Porsche 911 Turbo Cabriolet, seen in the great city of Xiamen in Fuzhou Province by reader Pinut187, thank you for the pictures! The 911 is an incredible aerodynamic race machine, but things can always be better. The proud owner of this 911 Turbo decided to go for a fat-ass body kit including a very low front lip and wide side skirts.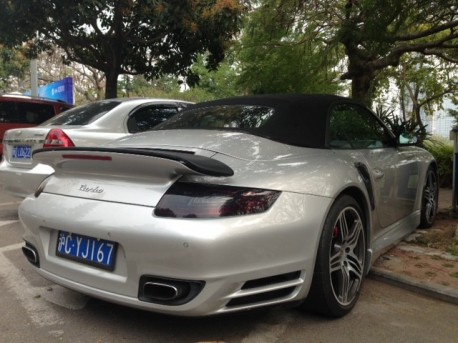 The silver speed sled is further sexed up by a carbon-style black bonnet, a sleek black roof, a black wing on the back and very cool black rear lights. The pre-facelift 997 Porsche 911 Turbo Cabriolet debuted in 2007 and was made until 2009. Power came from a 3.6 liter flat-six with 473hp and 620nm, good for a 310 km/h (Coupe: 318) top speed and 0-100 was gone in 3.6 seconds.
The car on pics has Shanghai license plates, the distance from Shanghai to Xiamen is about 1100 kilometer. That will take the Porsche about three hours, wadda road trip!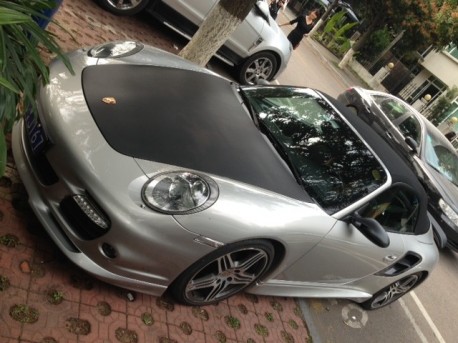 Time now for our Famous China-Porsche 911 Collection™: license, shiny green, shiny blue, baby blue,  991 Turbo prototype, 911 Turbo S, 993 Carrera RS, pink cabrio, matte black, matte black 911 GT3, 964 911 RS America, yellow 964 911, pink 996, shiny blue, orange, Edition 918 Spyder, matte-black, pink, ugly body kit, gold, and the China-only Anniversary Edition.