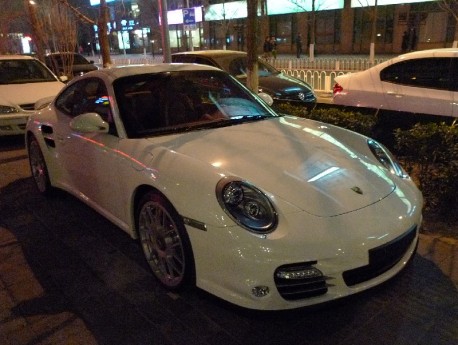 A wild 'n white 997 Porsche 911 Turbo S seen late at night in my own street in Beijing. The Turbo S is basically a sexed up Turbo and debuted in 2010. The 3.6 liter twin-turbocharged flat six was tuned up to 523 horsepower, up 30 compared with the standard 911 Turbo.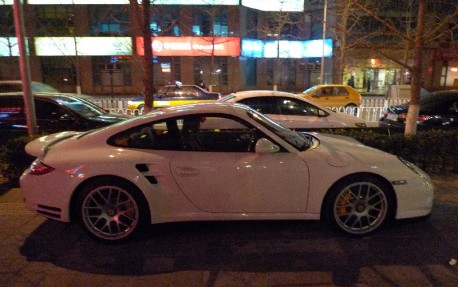 The Turbo S came with the PDK gearbox, sport exhausts and reworked suspension. Top speed was 315 km/h and 0-100 was gone in 2.7 seconds. A seriously fast machine and very rare in China. We met only one 997 Turbo S before, and that was the extremely rare Porsche 911 Turbo S Edition 918 Spyder.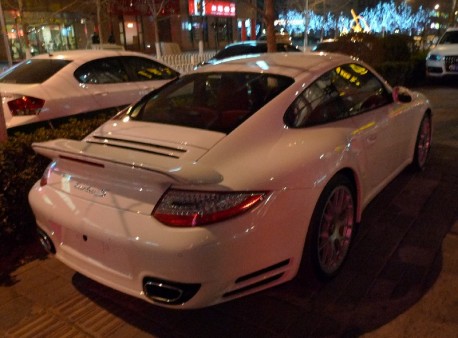 The bigger the ass the faster the 911. Some other notable Porsche 911 sportmachines we saw in China: 991 Turbo spy shot, 993 Carrera RS, pink cabrio, matte black, : matte black 911 GT3, 964 911 RS America, yellow 964 911, pink 996, shiny blue, orange, Edition 918 Spyder, matte-black, pink, ugly body kit, gold, and the China-only Anniversary Edition.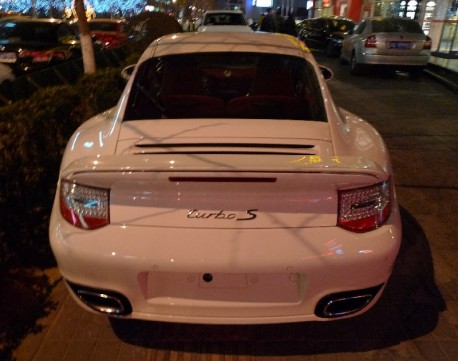 My home is about 200 meters from here. Turbo S can fix that is less than two seconds.