A 40-year old woman crashed a BMW 535i GT into a bank in the great city of Foshan in Guangdong Province. Funnily, she crashed straight into the bank's VIP area. Fortunately, nobody was working there at the time of the crash, and the unfortunate woman wasn't hurt.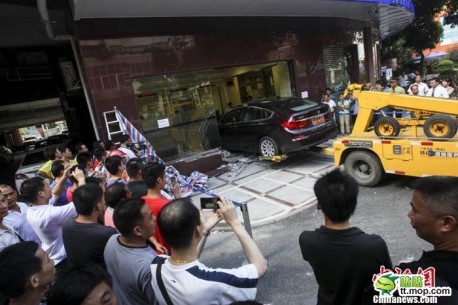 The crash was apparently caused by the woman mistaking the accelerator for brake pedal when she was trying to avoid another car, which she managed to do pretty well. The bank building was heavily damaged with an 8-meter glass wall in tatters. The BMW did much better with a broken windshield and some scratches. Police is sorting out who is to blame for the accident and damage.
The women driver will also have to explain police why her license plate was covered with a so called 'marriage plate', saying 'tie the knot'. This kind of plate is legal during an actual wedding. Otherwise, police will assume a driver is trying to fool the law…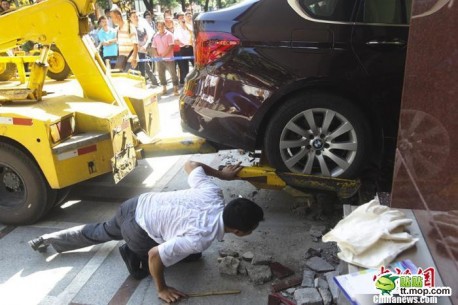 The BMW 5-Series GT is imported into China. Price starts at 809.000 yuan and ends at 1.86 million yuan ($130.000 to 289.000), requiring a very fat bank account indeed.