The new Jeep Cherokee will be launched on the China car market in early September. Price will start around 350.000 yuan or 56.000 US dollar. The Jeep Cherokee will be imported into China until local production at the Guangzhou-Fiat joint venture starts late next year.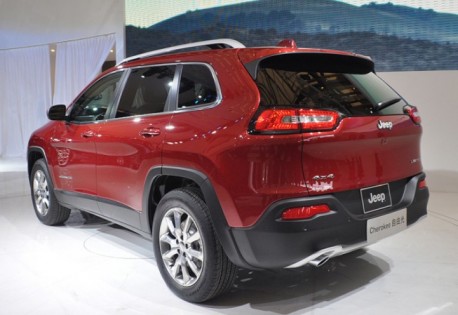 The new Cherokee is based on the Dodge Dart which is basically the same car as the Fiat Viaggio sedan, which is already in production at Guangzhou-Fiat. Chinese name of the new Cherokee is Ziyou Guan, 自由光.  Ziyou means liberty as in Jeep Liberty, the predecessor of the new Cherokee which was never sold in China. Guan means light as in sunlight. Together we get 'Liberty Light'.
The imported Jeep Cherokee will be available with two engines: the 180hp 2.4 liter four-cylinder and the 266hp 3.2 liter V6. The locally made Jeep Cherokee will also be available with the 150hp variant of the 1.4 liter turbo.
The good old Jeep Cherokee XJ was made in China from 1984 until 2009 by the Beijing-Jeep joint venture.