This is the Beijing-Jeep Cherokee Limited Sport, an extra cheap and extra sporty version of the Beijing-Jeep Cherokee that was made in China by the Beijing-Jeep joint venture from 1984 until 2009. The Cherokee Sport should not be confused with the top of the bill Beijing-Jeep Cherokee Limited, which was the most expensive Cherokee Chinese money could buy.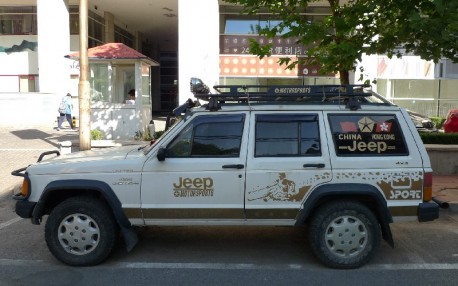 The Limited Sport came with cheap plastic wheel covers, a gigantic roof rack and a dressed down interior. All the other stuff on this particular white car; bull-bars, fog lights and sun visor, were factory options. The Limited Sport however will be remembered by its stickers, especially the one depicting a woman on skis. All stickers seen on this car are factory standard, except for the stuff on the windows which is aftermarket.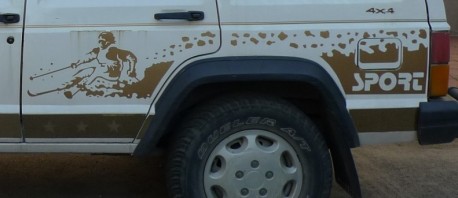 What were they thinking there at Beijing-Jeep? Well, it is certainly very original. The Limited Sport arrived in 1990 and continued until 1994. Only engine was the 2.5 liter four-cylinder mated to a 5-speed manual sending power to all four wheels. Other Cherokee specials, such as the Super Cherokee, were also available with the 4.0 six-cylinder. The Cherokee Limited Sport however wasn't the cheapest Cherokee, that honor went to the Cherokee City Special which happens to be my drive… Much more on that one later!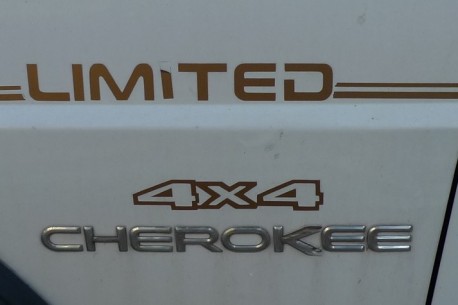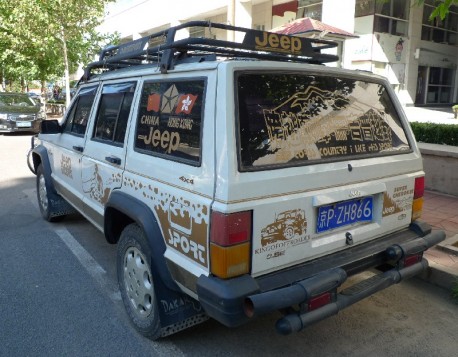 Rear bull bar loox ridiculously crappy and dangerous but really was a factory option. Those were the days.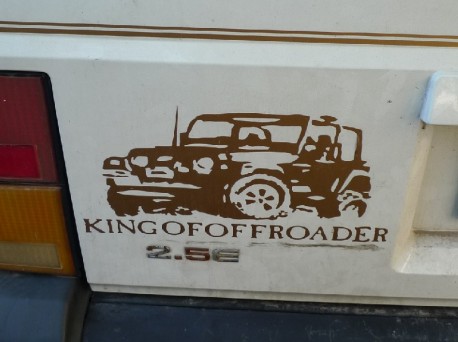 This sticker was standard too, King of off Roader, very catchy, and it's a Wrangler!