A very pretty Chinese girl, sitting & smiling in a very pretty Ferrari F430 Scuderia super car. The beauty is dressed in not much and her earrings are a match with the Ferrari. Click on the Pics for Bigs™. Little bit NSFW.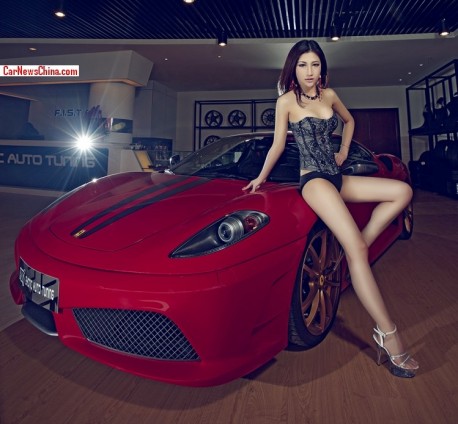 The fantastic pictures were taken in the new shop of FFF Automobile, China's most famous super car dealer. Coincidentally we were at in this very place last Saturday, but we sadly didn't see the girl.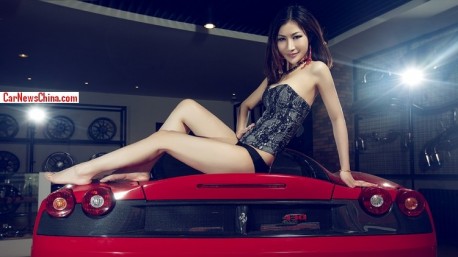 The Ferrari F430 was only the second Ferrari that was officially exported to China after the 360. The F430 was made from 2004 until 2009. The Scuderia was the hard core super light variant which arrived in 2007. Weight was down 100 kilo compared with the standard F430 and the engine was tuned up to 508hp and 470nm, good for a manic 319km/h, 0-100 is gone in 3.9 seconds.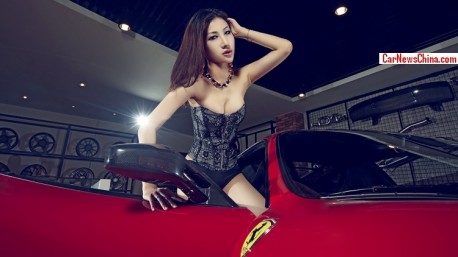 Doing her hair in the door.
The F430 was, and still it, a mighty popular super car in China. Here is our Famous China-Ferrari F430 Collection™: license (P430Y), license (FF430), black as the night (in Shenzhen too!), with FF, matte blue, matte black, with girls, matte black Scuderia, shiny red, golden alloys,   F430 Novitec Rosso, Spider 16M, matte-black-silver,  red, a red, matte-black and a Novitec Rosso 707.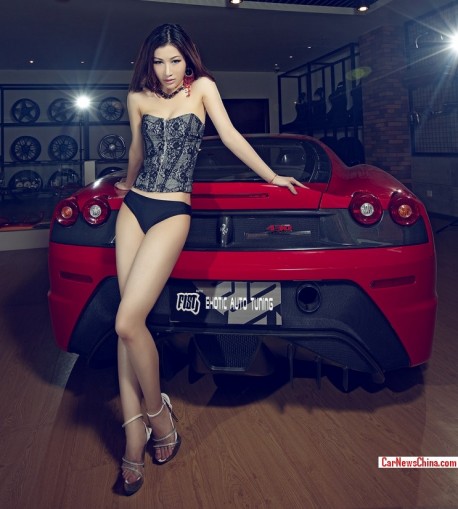 The girl is extremely beautiful and especially very tall. Will she fit in the Ferrari, which is made for those small Italian men?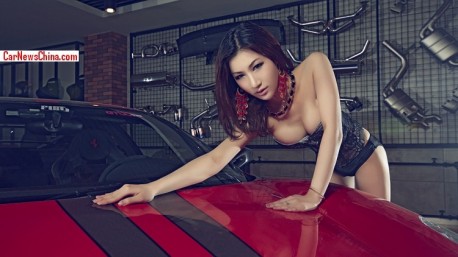 Which exhaust system would do her best..?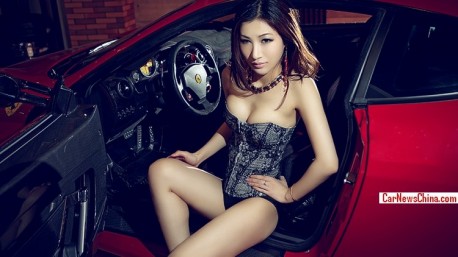 Yup, she just fits in.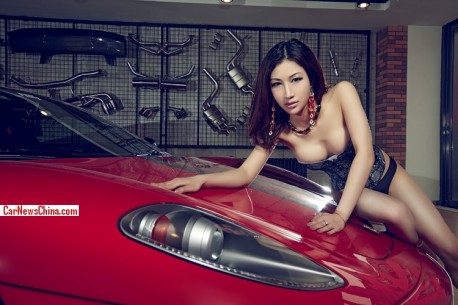 don't fall off the bonnet you pretty1, the ground is hard you know.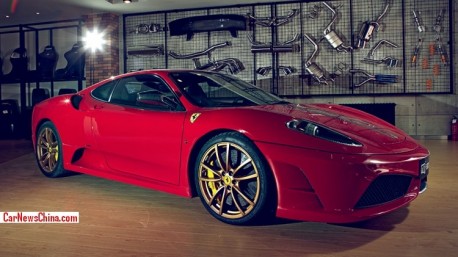 A beauty of a car as well. It was modified by a Chinese company called Fist Exotic Auto Tuning (website?) (movie!). Modifications include the kinky golden alloys, giant yellow Brembo brakes, and the addition of a Kreissieg variable valve exhaust system for a few horses more. Pics via GTUU., the greatest Chinese site on tuning and other car-weirdness.