A beautiful black Ferrari F430, seen late at night in parked on a street in the great city of Shenzhen in Guangdong Province. The F430 was painted in some sort of non-shiny piano black which made the vehicle look extremely fast.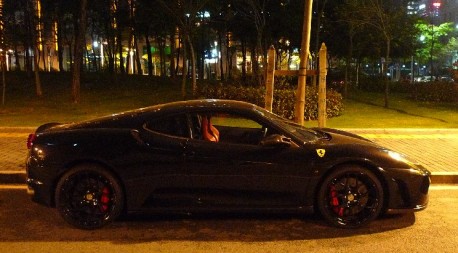 Other prettymaking measures included a carbon fiber lip under the front bumper, carbon fiber mirrors, , red racing seats, giant black Fiorano wheels and track-ready low profile tires that looked very much like real slicks. A Ferrari F430 ready for racing; very much approved…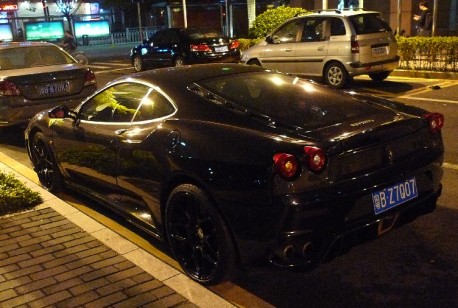 The base F430 was powered by a 4.3 liter V8 with 483hp and 465nm, this black monster however likely has a bot more. Time now for our Famous China-Ferrari F430 Collection™: with FF, matte blue, matte black, with girls, matte black Scuderia, shiny red, golden alloys,   F430 Novitec Rosso, Spider 16M, matte-black-silver,  red, a red, matte-black and a mighty Novitec Rosso 707.