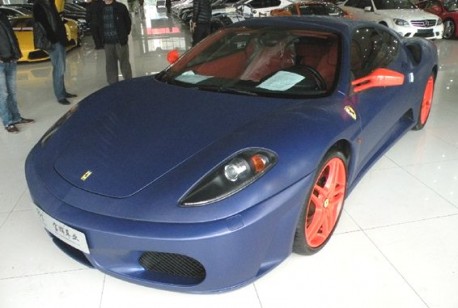 An interesting Ferrari F430 seen in a second hand dealer in the great city of Hangzhou in Zhejiang Province. The fine supercar is painted, no wrap here, in a kinda jeans-like matte blue, further sexed up by pinky orange alloys and mirrors. A never-seen before combination of colors that we probably should  like.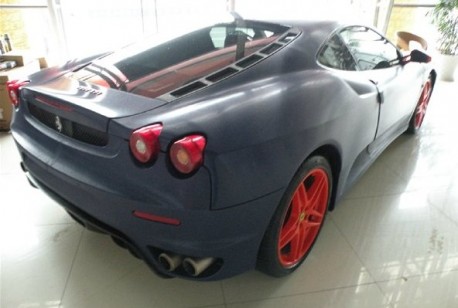 Many Ferrari owners like to wrap their car in something crazy, so they can change it back to red later on. This Hangzhou man however was very certain he liked blue and decided to go paint, a very brave decision but a hard sell second hand.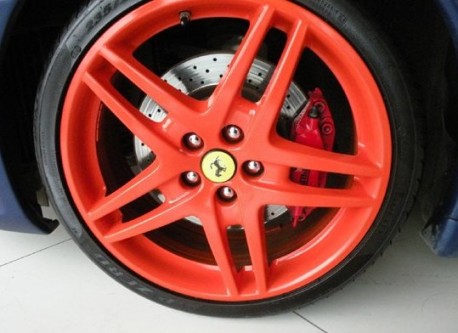 Original Ferrari alloys are painted too. Pink mixed with orange, or orange mixed with pink, we are not sure. Brake pad is left alone, still red, should have been matte blue.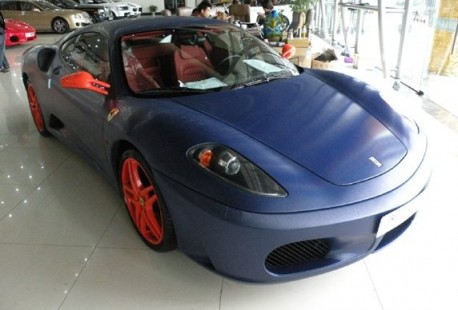 Interior standard red. Well, even if nobody will buy it, this F430 is a wonderful car. Now more F430, here is our extremely famous China-Ferrari F430 Collection™:  matte black, with girls, matte black Scuderia, shiny red, golden alloys,   F430 Novitec Rosso, Spider 16M, matte-black-silver,  red, a red, matte-black and a mighty Novitec Rosso 707.