An almost invisible Bentley Continental GT, seen in the great city of Shenzhen in Guangdong Province. The great vehicle has been stealthelized to the max by a matte black wrap wrapped all over the body, bumpers, and mirrors. The Conti has been sexed up much further by a fatass body kit and LED lights in the bumper.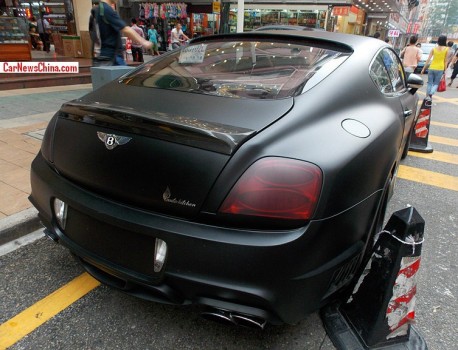 More joy at the back with four giant exhaust pipes, darkened rear lights, and huge racy wheels. Only dissonant is the rear wings which is far too shiny compared with the matte black body. Otherwise; a perfect car! The base Bentley Continental is powered by a mighty 6.0 W12 pooping out 560hp and 650nm, but I bet this matte black monster in Shenzhen got a few horses more!
Time now for our Famous China-Bentley Continental Collection™: Pink, matte purple, very lucky, black in the rain, matte white Mansory, white Hamann, purple pink, gold black, matte black, Bling, pink, and another matte black.