A beautiful black Bentley Continental GT, seen in heavy rain in the great city of Shenzhen in Guangdong Province. The vehicle was parked on a lot near the ferry to Zhuhai, where I met a black Plymouth Sundance just one hour earlier. The giant Bentley looked brand new and stood strong impressive under the thunderous skies.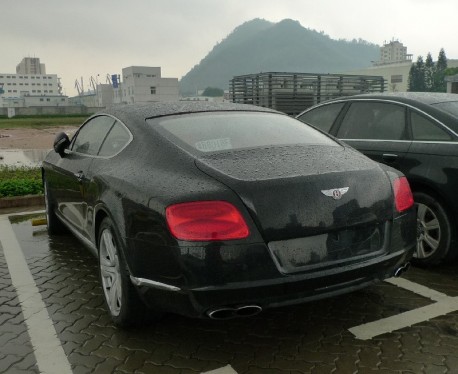 The Bentley Continental GT is a very popular supercar in China. Price and power are sky high, and that is exactly what wealthy Chinese car buyers prefer. The cheapest V8 Continental goes for a steep 2.98 million yuan or 483.000 yuan. The cheapest V12 starts at 3.28 million yuan. China was the biggest market worldwide for Bentley in 2012 and sales for this year are expected to be even higher.
A few other fine Bentley Continental GT we met in China: matte white Mansory, white Hamann, purple pink, gold black, matte black, Bling, pink, and another matte black.