An manically brilliant blue Carlsson Mercedes-Benz E-Class, seen in the great city of Xiamen in Fujian Province by reader Pinut187, thank you for the pictures! The vehicle loox as fast as lightning in its shiny blue paint, contrasting perfectly with a matte black grille and matte black 5-spoke alloys sitting in racy 21-inch tires.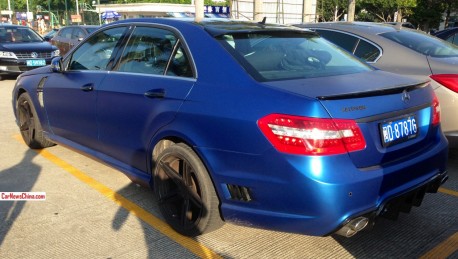 Fatass diffuser at the back for more down force, helped by a wing on the boot lid and another wing on the roof. Extra air vents behind rear wheel for cooling the brakes, that will no doubt get very hot in such a speedy car! Carlsson offers many different performance packages for the W212 E-Class sedan, the best being CK63 based on the C63 AMG, with an output of 560hp and 680nm.
Not sure what Blue Lightning has under the bonnet, but I bet there is a load of horses sitting there!