This is the brand new Gonow GA Sedan concept, it debuted earlier today on the 2013 Guangzhou Auto Show, leaving us very dizzy. The concept is wrapped in a shiny gold wrapped in parked in a booth wrapped in shiny-silver. The result is certainly impressive, and that poor man working there will be ready for the mad house after the show.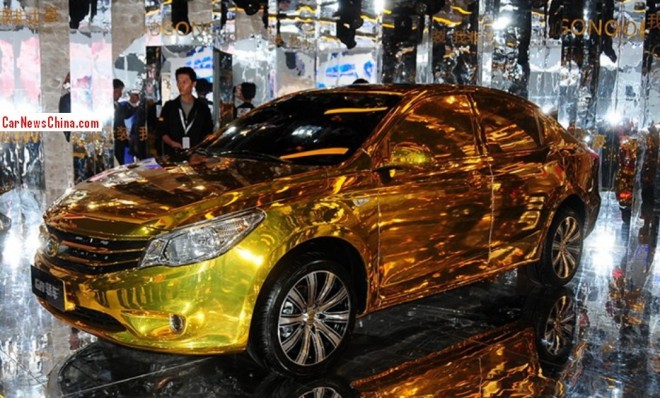 The Gonow GA sedan concept previews the upcoming Gonow GA sedan. The production version was expected to debut on the show but we got this plainly wacko concept instead. At least it is less boring than the real thing will be!
Gonow is a subsidiary of Guangzhou Auto, positioned as a budget brand making cheap variants of existing Guangzhou Auto cars.  The production version of the Gonow GA sedan is based on the Guangzhou Auto Trumpchi GA3 sedan. Power will come from a 120hp 1.6 liter four-cylinder petrol engine. Debut is now expected for the April 2014 Beijing Auto Show.