This is the Citroen DS 5LS R concept for the 2014 Beijing Auto Show. The 5LS R is a racy sedan based on the bread and butter Citroen DS 5LS. The R is powered by a souped up version of the 1.6 turbo with a manic 300hp and 400nm. The exterior is prettified with a body kit, a vertical racing stripe on the door, and 21 inch wheels with typical Citroen-concept style alloys.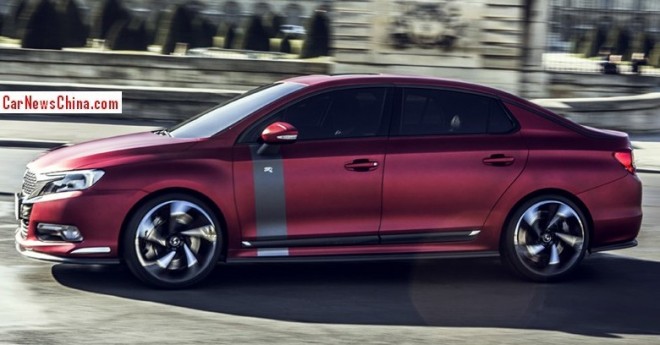 Interestingly, the chrome strips, the DS 5LS most eye catching feature, have been blacked out for the R. Compare: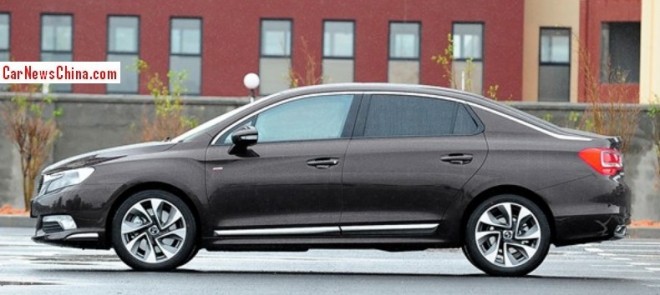 Check chrome strip running over windows to rear light and chrome strip on doors.
The China-only Citroen DS 5LS was launched on the Chinese car market in March. It is manufactured by the Changan-PSA joint venture. Price starts at 146.900 yuan and ends at 246.900 yuan. The Citroen DS 5LS is a new China-only Citroen DS sedan based on the Citroen DS5 hatchback. Its is an important car for DS in China as most buyers in this segment prefer a sedan over a hatch.
There are three engines available: a 1.6 turbo with 200hp and 275nm, a 1.6 turbo with 163hp and 240nm, and a 1.8 with 139hp and 170nm.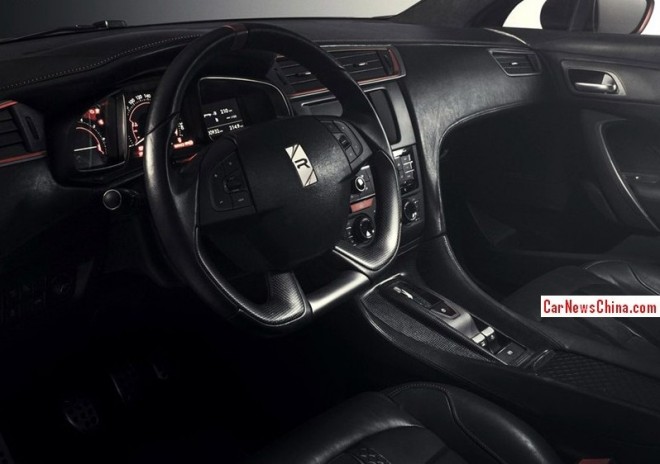 Very black in here. R logo instead of DS logo. No Citroen logo. Chrome on steering wheel deleted as well. Flappy pedals.
Whether the R will see production is yet unclear, but it is not impossible. Chinese car buyers are more and more asking for more horsepower and more special variants and a car like the R might be an answer.