BYD will join this year's China Rally Championship (CRC) with the BYD Qin plug-in hybrid, marking the first time ever for a hybrid car to compete in rallying. The CRC is China's official national rally championship with six scheduled events for 2014, supervised by the 'Federation of Automobile Sports of PRC' (FASC). Other participants in the CRC include y Suzuki with the Swift, Lifan with the 330, and various dealer-teams with the usual Impreza's and EVO's.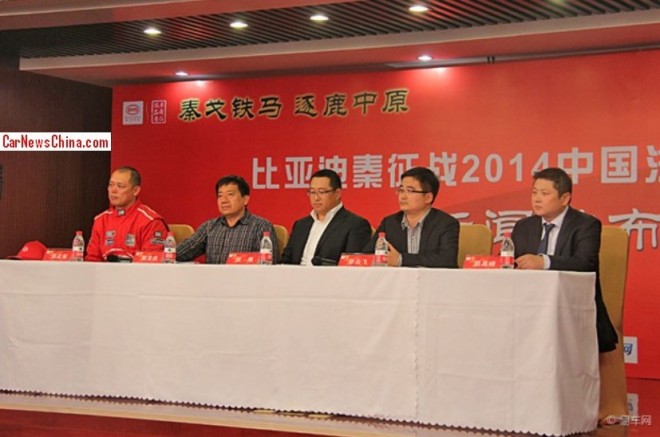 Happy faces at the BYD press conference announcing the rally news.
BYD will field two cars manned by rather famous drivers and navigators. The Qin's will compete in a new 'Hybrid Class', approved by the FASC, in which they will be the only competitors, for now. FASC hopes more factory teams will join the class for a truly revolutionary hybrid-rally spectacle.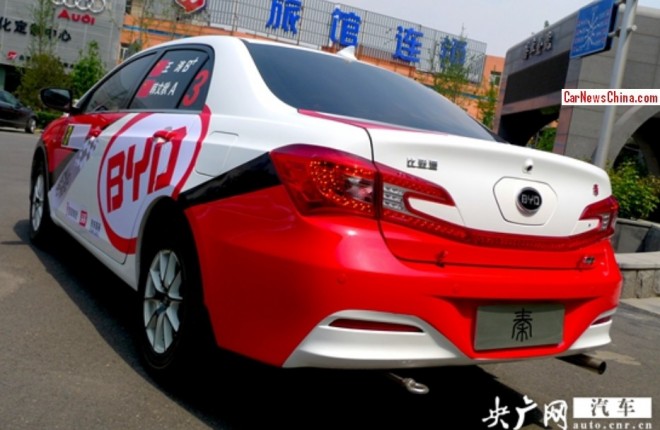 The Qin is powered by a hybrid drivetrain consisting of a 1.5 liter turbo four cylinder petrol engine and an electric motor. Combined output is 303hp and 440nm, making the Qin the most powerful mass-market hybrid passenger car on earth, and it dragraces. The 1.5 turbo poops out 154hp and 240nm, the electric motor 149hp and 200nm. Gearbox is a new 6-speed DCT.
Top speed of the road car is 185km/h and 0-100 is gone in 5.9 seconds. But the Qin is also very heavy, and weight means all in racing. Curb weight of the road car is a hefty 1720 kilo. Deleting the rear seats and radio will sure save a few hundred but BYD can't get rid of the battery and the drivetrain, which are by far the heaviest parts of the vehicle.
No matter all that, fielding the Qin is certainly an interesting idea and BYD should be applauded for doing something new and potentially very cool. We will try to keep an eye on the championship…