An exclusive sneak preview of the all-new Volvo S60 Cross Country, seen here on the Volvo booth at the 2015 Detroit Auto Show where it will officially debut tomorrow, but we cannot wait that long! The Volvo S60 Cross Country is a crossover sedan based on the Volvo S60, a rather daring vehicles as most crossovers are based on wagons or hatchbacks. The only thing than comes close to the idea is the BMW X4.
The 4WD Volvo S60 Cross Country gets 2.5 inches of additional ride height, 18- or 19-inch wheels, black plastic around the wheel arches, side bars, and all-black window frames. Sadly, there is no roof rack. The Cross Country will be available with various petrol and diesel engines, including the 250hp T5 turbocharged five-cylinder petrol  and the 202hp D5 turbocharged five-cylinder diesel.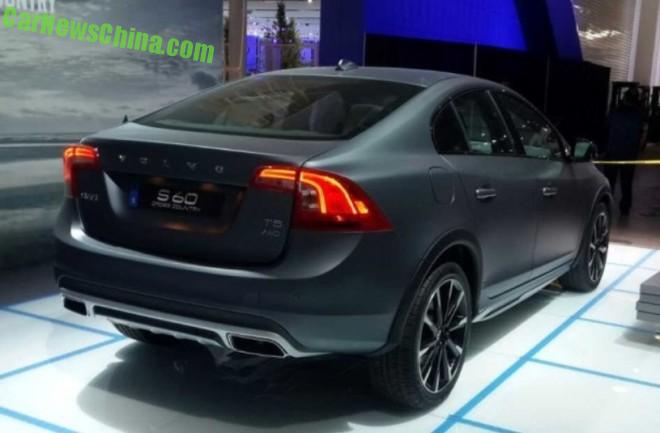 Skid pad at the back, smoothly integrated exhaust pipe tips. The S60 Cross Country will debut in China on the Shanghai Auto Show in April and will be launched on the Chinese car market in the second half of the year as an import for about 400.000 yuan.
Interesting car and all, but what about a Cross Country version of the China-made and stretched Volvo S60L? Now that would be a crossover!