A maniac Mitsubishi Lancer EVO IX, Spotted in China near the Goldenport race track in Beijing, standing close to a matte gold Toyota Supra. The lunatic Lancer is painted in fiery red and covered by a thick layer of dust, indicating it didn't move for about a week; the dust in the capital is really that bad.
A typical Chinese mess here. RAKS alloys with a Michelin logo, Dunlop tires, and StopTech brakes. It all doesn't look very solid…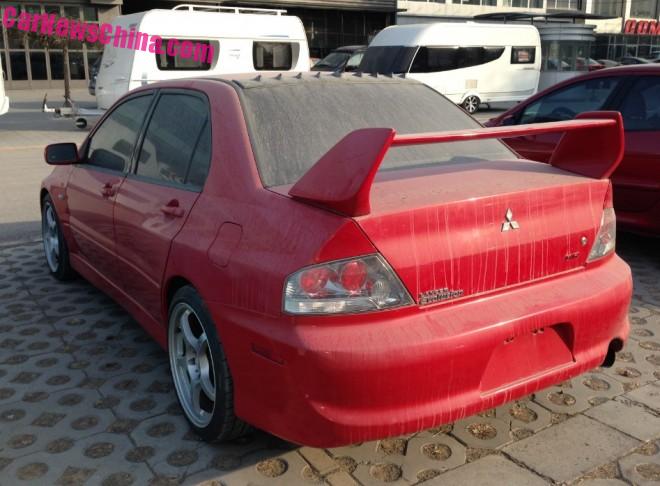 Asides the wheels the EVO seems bog standard, even the exhaust pipe is untouched.
The Mitsubishi Lancer EVO IX was manufactured from 2005 until 2008, a rather long production run for an EVO. Power came from the famous 2.0 four-cylinder twin scroll turbocharged Mitsubishi 4G63 engine, fitted for the first time with MIVEC, Mitsubishi's variable valve lifting technology. Output is 293hp and 392nm, power goes to all four wheels via a new six-speed manual gearbox.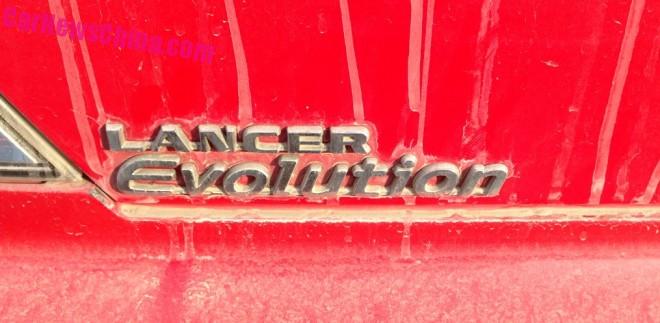 One of the best badges in the business!
Time now, for our Famous Mitsubishi EVO China Collection™: yellow X, black IX, white V, X with GTR,  very low, pimped EVO 8, with girls, in gold an with a big wing.