A wondrous white Mitsubishi Lancer EVO V, Spotted in China on the Beijing Tuning Street, near the same shop where I earlier on met a Nissan R32 Skyline GT-R V-spec II and a souped up Mazda RX8. The good EVO was in immaculate condition, looking fanatically fast!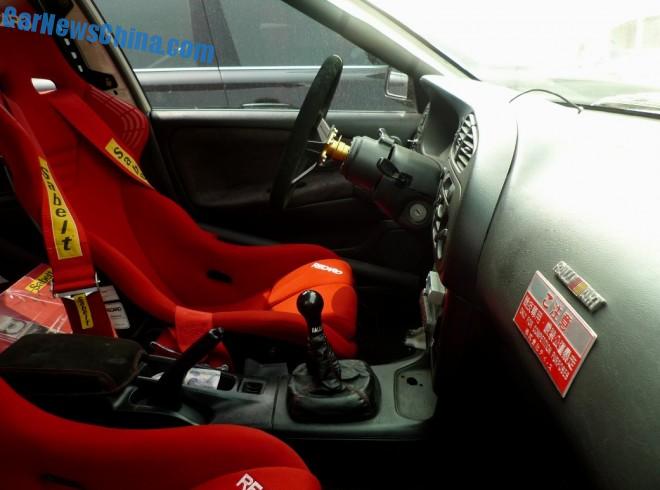 The interior looked completely race-spec with racing seats, a roll cage, a detachable steering wheel, and this interesting badge reading…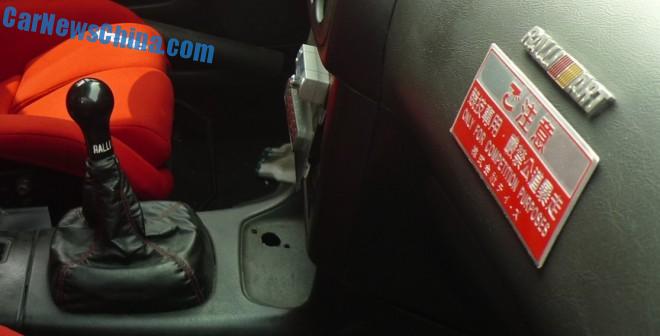 … 'only for competition purposes'. Ralliart was the high-performance and motorsports division of Mitsubishi Motors, responsible for the preparation if the incredible successful Lancer-based rally cars. It seems that this particular car once started life as a full-blood rally car and was later somehow converted to a street car.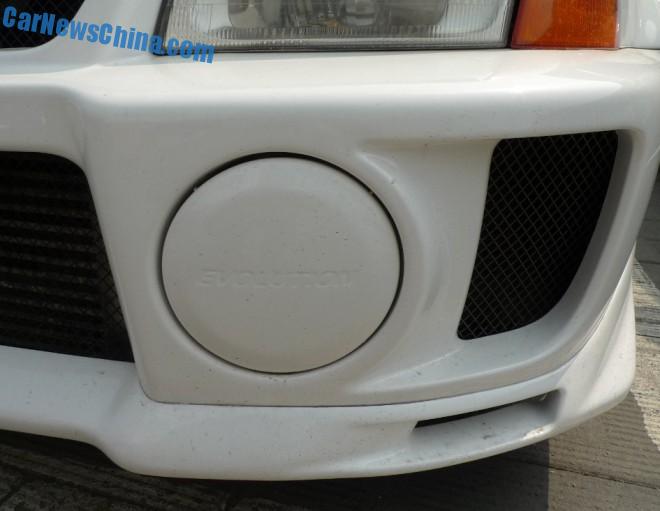 The Lancer EVO V was only manufactured for one year, from January 1998 until January 1999. It was basically an improved variant of the EVO IV, instead of an all-new car. The body kit was bigger with added wheel arches and various aerodynamic improvements. Tires were wider and the engine block was made stronger. The EVO 5 is powered by a 2.0 four-cylinder petrol engine, fitted with a twin scroll turbocharger. Output is 276hp and 373nm, sending horses to all four wheels via a five-speed manual.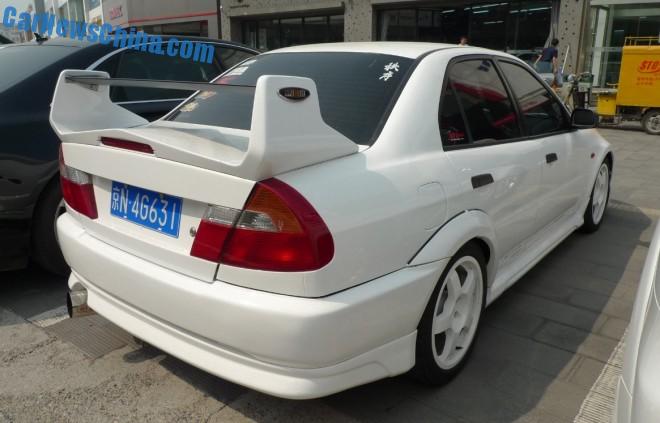 She has a license plate but I doubt whether it is real, and I seriously doubt whether a competition-style EVO V can ever be legally registered in China. The doubt about the plate arrives from the sequence '4G63' which must refer to the Mitsubishi 4G63 engine, it debuted in 1993 and powers all Lancer EVO variants until the 2005 EVO IX.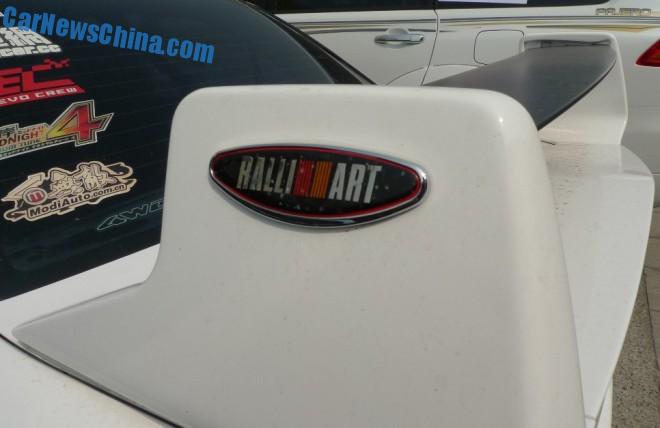 Ralliart badges on the adjustable rear wing.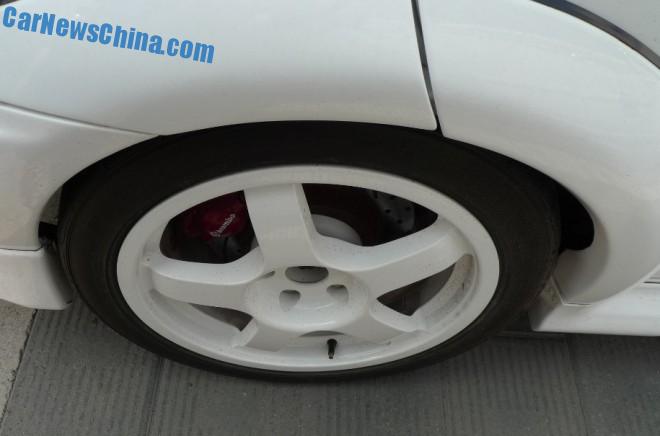 Five spoke alloys with red Brembo brakes.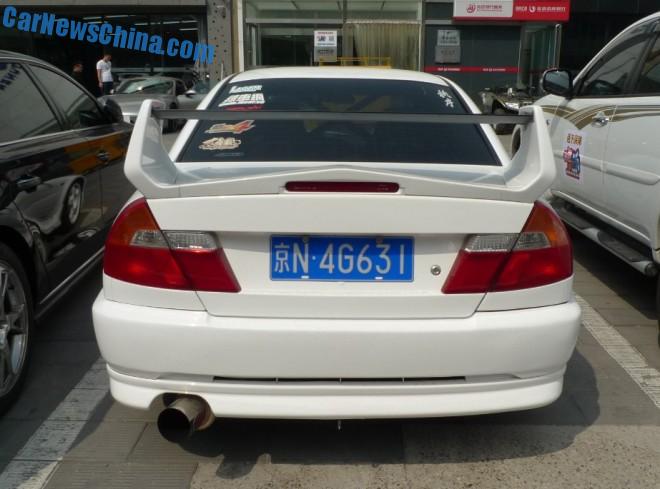 Super sized exhaust pipe for noise, big noise!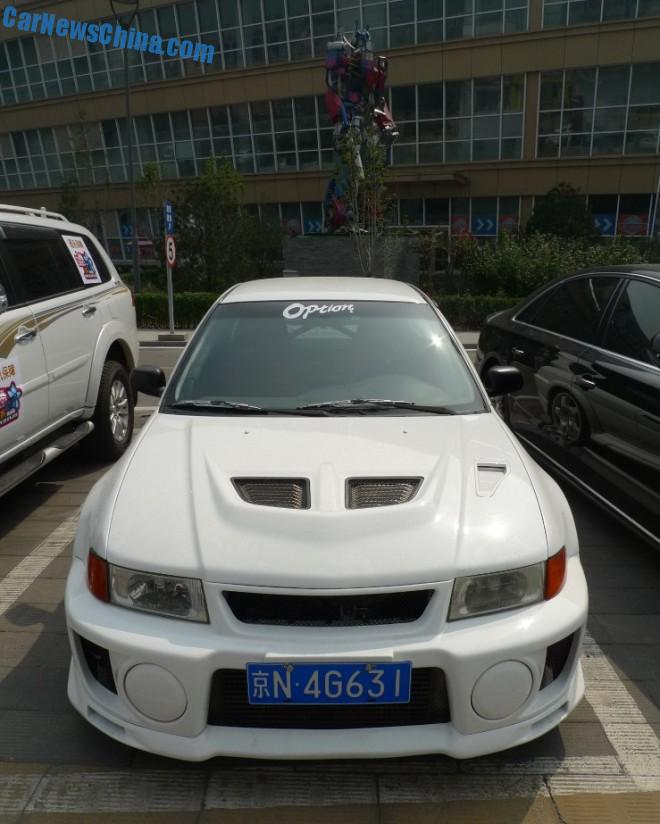 The EVO V. Optimus Prime approves.