A super sonic Mitsubishi Lancer EVO X, Spotted in China in far east Beijing. The Japanese monster is painted, no wrapping here!, in banana yellow and further screamed up with lowered suspension for low riding, a road kissing body kit including an impressively low front lip, black windows, black air vents in the bonnet, streamlined mirrors Super GT style, six spoke matte black alloys in extra wide slick like tires, black headlights, and all black grille, and a license plate reading N·EVO22, and that is one of the best license plates we have seen on a Mitsubishi EVO X in China.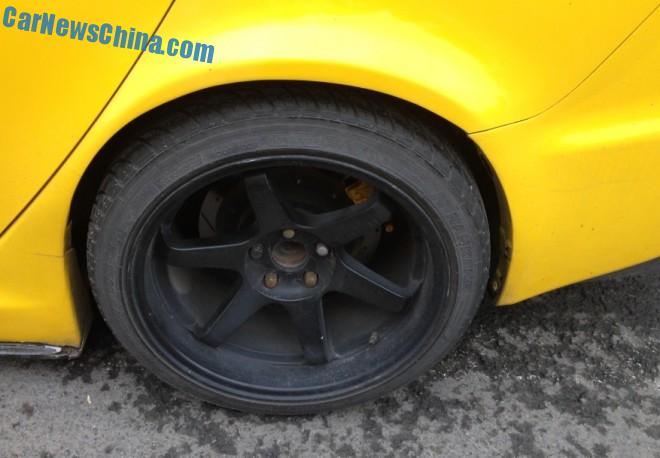 A closer look at the rear wheel. Steel brakes for no bullshit.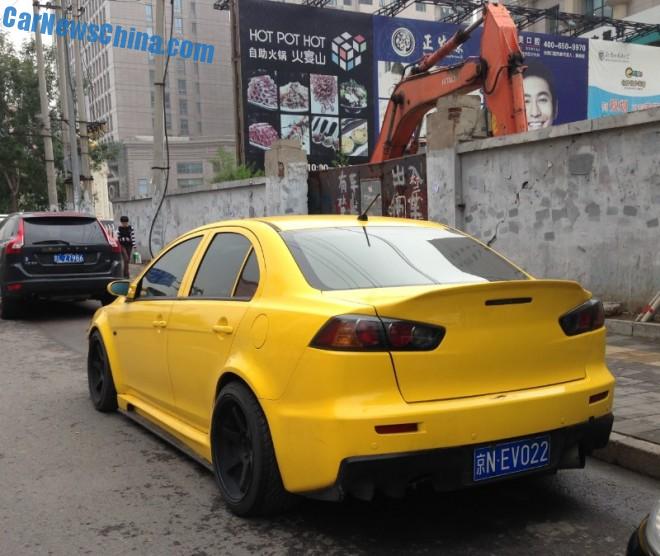 More fun at the back with an integrated rear wing and a fatass diffuser with three separate winglets on each side of the license plate. This thing indeed, is a racer for the road.
The Mitsubishi Lancer EVO X was launched in 2007 and production continues until today, making the X is longest running EVO car. Power comes from a 2.0 turbocharged four-cylinder petrol, good for 300hp in base form, but we bet this yellow beast has a few more horses under the bonnet!
Time now, for our slowly growing but very Famous Mitsubishi EVO China Collection: black IX, white V, X with GTR,  very low, pimped EVO 8, with girls, in gold an with a big wing.