This is the Mercedes-Benz GLA SUV, the China-made GLA-Class. Mass production has started and the vehicle will have its public debut on the 2015 Shanghai Auto Show that starts on April 20. Launch on the Chinese car market is scheduled for late May. The GLA will compete head-to-head with the locally made Audi Q3 and BMW X1. The Mercedes-Benz GLA and China have a strong connection; the GLA Concept had its worldwide debut on the 2013 Shanghai Auto Show.
The GLA is manufactured in China by the Beijing-Benz joint venture that also makes the E-Class L, the C-Class L, and the GLK SUV. The Mercedes-Benz GLA will It will be available with a 1.6 turbo with either 122hp or 156hp, and a 211hp 2.0 turbo. Price for the GLA will start around 220.000 yuan and end around 450.000 yuan.
The GLA is currently imported into China but doesn't sell very well because China's famously high import tariffs and taxes make it too expensive. Price of the imported car ranges from 270.000 yuan to 578.000 yuan. Imports will stop when the locally made GLA arrives on the market.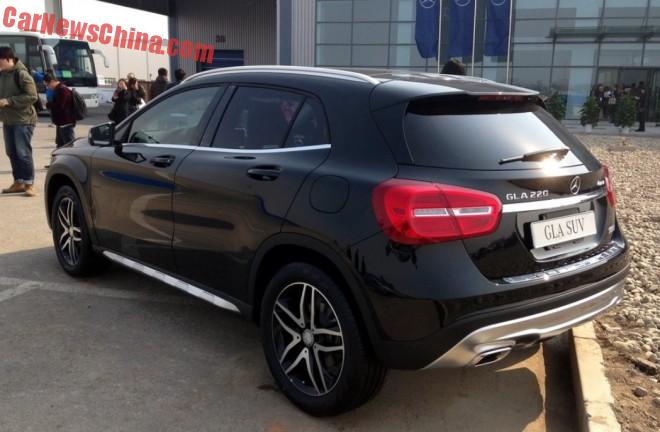 The China-made GLA is basically the same as the Euro-made car. No extra length or chrome.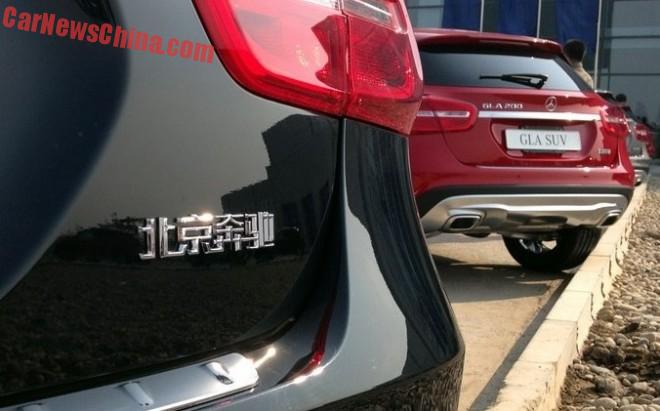 The Beijing-Benz badge.