This is the new China-made Cadillac CT6 sedan, ready for its launch on the Chinese car market on January 27. Price will start around 500.000 yuan and end around 700.000 yuan ($78.000 – 110.000), pitching the CT6 perfectly against the high-end variants of the China-made Audi A6L, BMW 5-Series L, and the Mercedes-Benz E-Class L.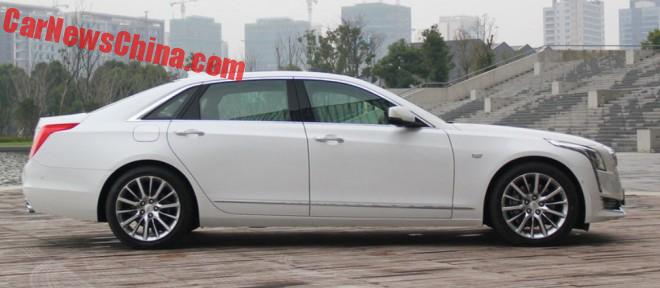 The Cadillac CT6 is manufactured in China by the long running Shanghai-GM joint venture. The CT6 stands on the new GM 'Omega' platform that will also underpin a future big-barge Buick that will be manufactured in China exclusively for the Chinese market.
There will be two variants available:
The CT6 40T; powered by a twin-turbocharged 3.0 V6 with an output of 405hp and 543nm. Transmission is an eight-speed automatic, sending power to all four wheels.
The CT6 28T; powered by a turbocharged 2.0 four with an output of 275hp and 400nm. Transmission is an eight-speed automatic, sending power to the rear wheels.
A hybrid version based around the 2.0 turbo will be added to the line-up later, likely late this year.
Size: 5179/1879/1500, and wheelbase is 3109. This positions the CT6 exactly between the Audi A6L and Audi A8L, BMW 5Li and 7Li, and Mercedes E-Class L and S-L. A comparison with BMW:
BMW 5Li: 5055/1860/1491, and wheelbase is 3108.
BMW 7Li: 5250/1902/1498, and wheelbase is 3210.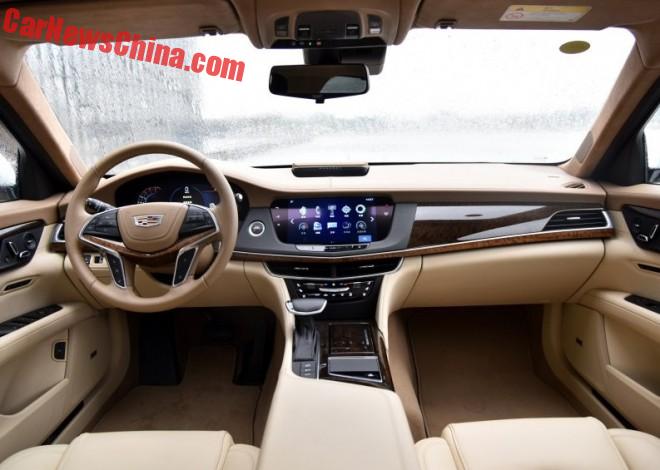 A very classy interior with loads of beige leather and rose-colored wood. Steering wheel with wood inlay and a large Cadillac logo. The CT6 is equipped with a 34-speaker Bose Panary sound system, with the mean speaker located on top of the dash above the center console.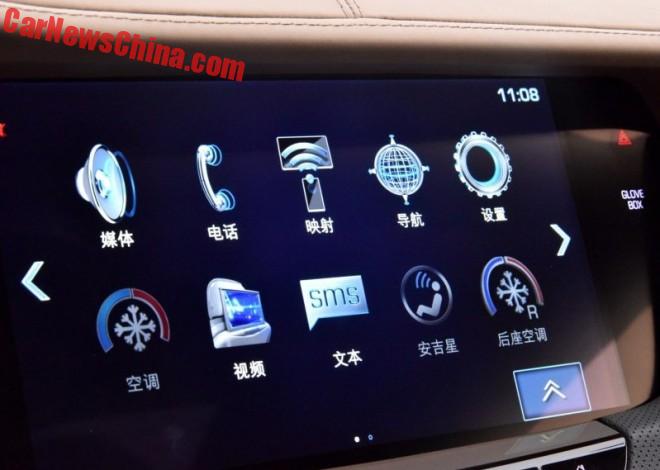 The LCD screen for the infotainment system is 10.2 inch in diameter. It is connected with the outside world with permanent 4G internet. Apple CarPlay is standard.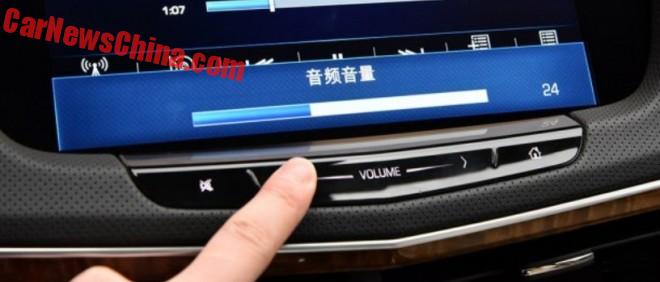 Oddly, it isn't all touch. The volume is the fancy speakers is controlled with an old fashioned button right under the screen.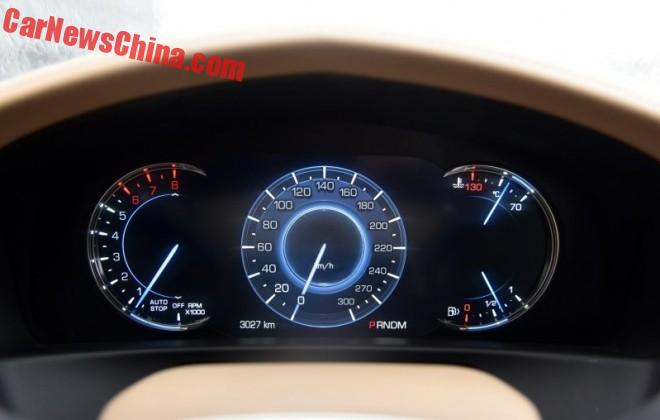 Dials are part digital part analogue. And it can do this: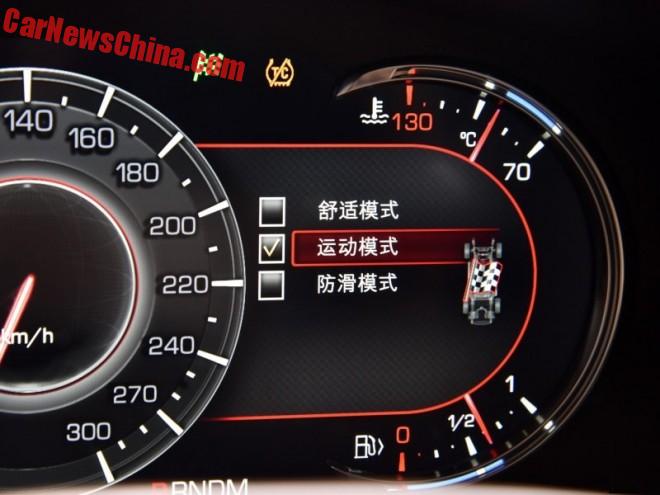 Showing the settings for the suspension, here in sport, with a trendy graphic showing a chassis with a checkered flag.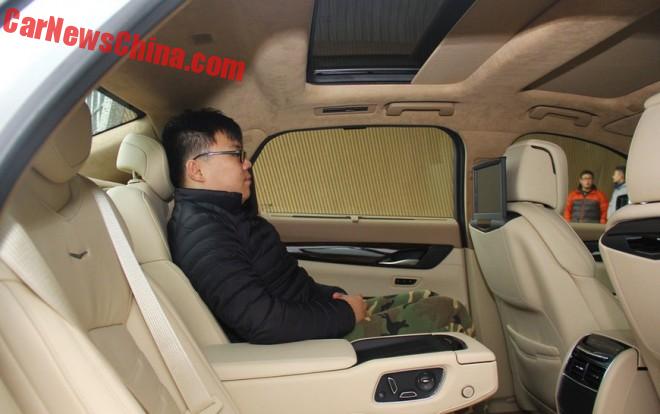 The luxurious cabin comes with a rear-seat entertainment system, a full size central armrest, a separate sunroof, and a Chinese man wearing camouflage trousers.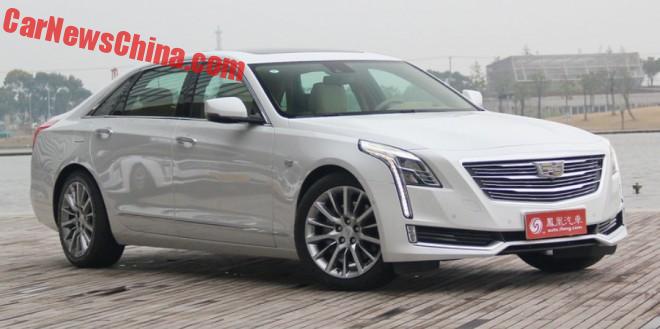 The front is remarkable with the 'crying eye' headlights, a heavily chromed grille, a giant Cadillac logo, and tiny tiny LED lights in the bumper.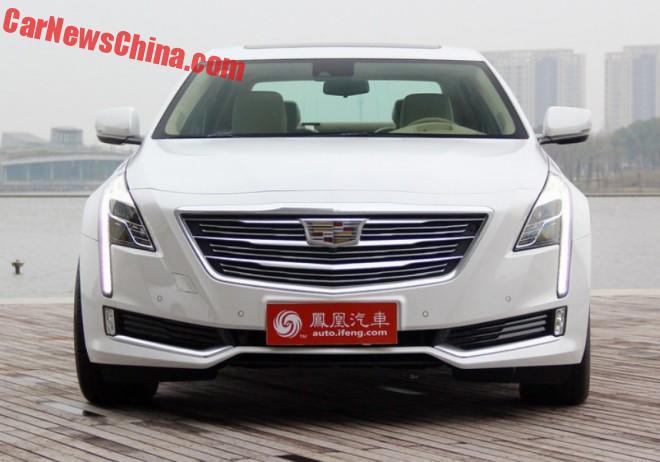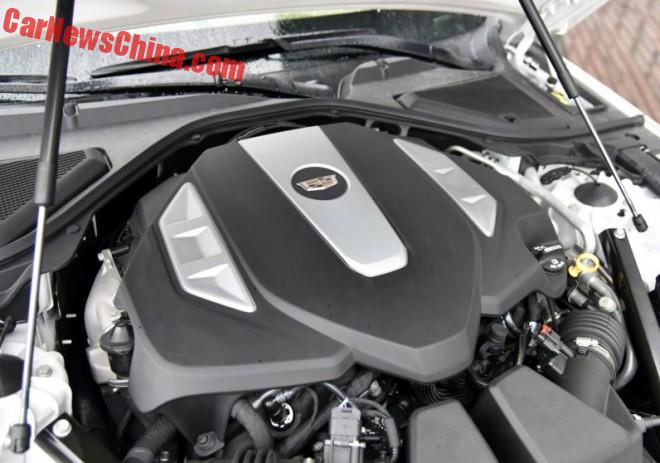 The 3.0 twin-turbo V6. Bit messy under the bonnet, with a only partially covered engine bay and loads of hoses and wires going everywhere. Should have been better.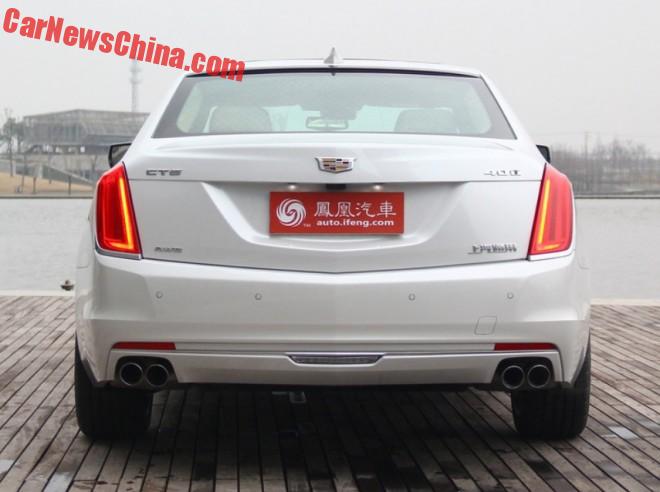 The rear does not excite, but the lights are nice.