The first Maserati Levante SUV has arrived in China, a gray example is making the rounds visiting Maserati dealers throughout the country, seen here with a helpful sign in front of it. Maserati has also announced that the Levante will be launched on the Chinese car market in July. The base version will go for 999.800 yuan or 149.000 USD. Price of the S will be announced later.
Maserati China also debuted the English slogan:
"Levante The Maserati of SUV's". Catchy, not?
It is not unusual for automakers to use English for marketing in China, alongside Chinese. They hope the English language will impress potential buyers, a kinda 'exclusivity' thing. These slogans are mostly made up by the Chinese sales organization and often sound ridiculous. Maserati now joins that club.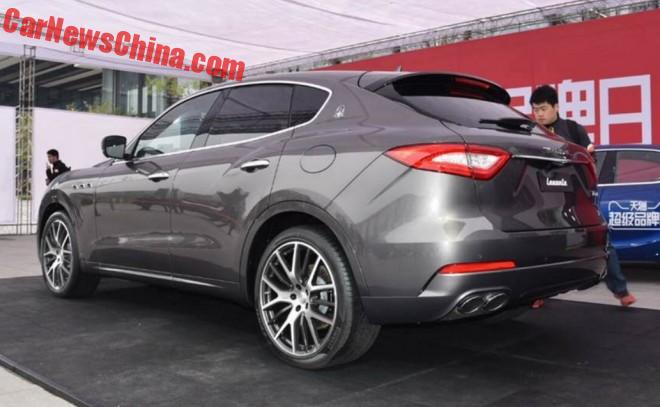 The Levante is powered by a twin-turbocharged 3.0 V6 in two tunes: the base car gets 350hp and 500nm, and the S gets 430hp and 580nm. Both engines are mated to an eight-speed automatic, sending horses to all four wheels. The base car has a 251km/h top speed and a 0-100 in six seconds, the S goes 265km/h and hits the hundred in 5.3 seconds.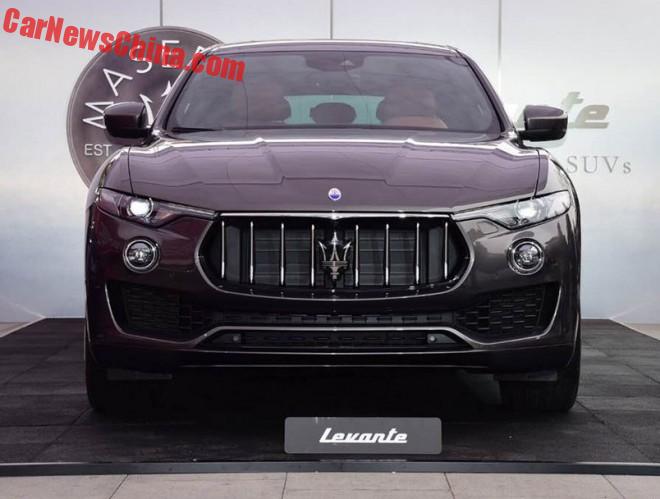 Maserati is still a very small business in China, selling less than 10.000 units last year, and the much touted Ghibli is unpopular here. Maserati hopes the Levante, we know that is the right name because of that sign down there, will turn the tide. But is it pretty enough to convince Chinese buyers..? Maybe not.