The new JAC SC-5 concept car has been launched on the Beijing Auto Show. The SC-5 previews a new mid-sized SUV that will be launched on the Chinese car market in late 2017. The shape of the grille is part of a new design language for JAC, the upcoming Refine S1 crossover will be the first production car to get it. This S1 by the way was expected in Beijing too but didn't show up.
The overall design is very nice. Sharp and sporty. If the production version looks just a little bit like this it will be the best looking JAC ever, by far.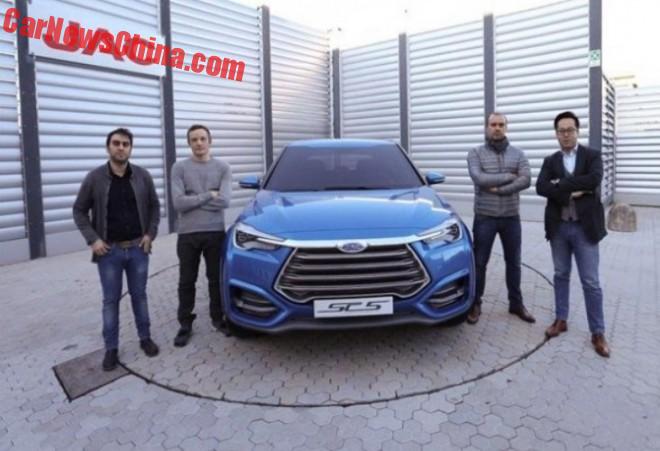 The SC-5 has been drawn up by JAC's 'Italy Design Center' and the company released this photo of four fresh looking young men standing somewhat angry around the car. We bet they designed it, but why aren't they a bit more happy..?
JAC didn't say anything about power so we assume the SC-5 doesn't have an engine. The production version will likely get 1.5 turbo and 2.0 turbo petrol engines, ranging from 150 to 200 hp. Price of a car of this size usually starts somewhere around the 150.000 yuan mark, positioning it amidst one of the most competitive SUV segments in China.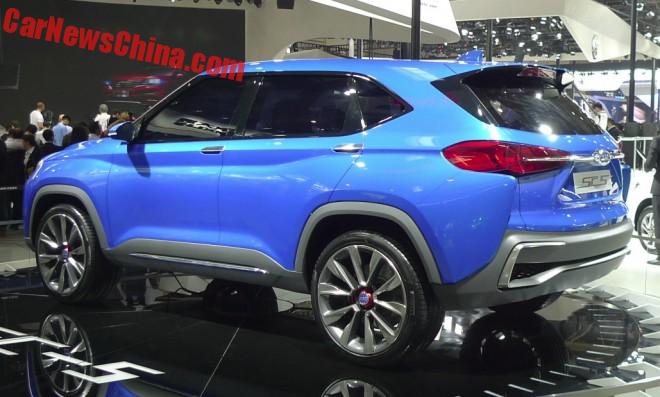 Oddly shaped chrome bars on bumpers are a new design fashion in China, especially on SUV's and crossovers. The SC5 joins the party. Chrome strips connecting the rear lights are already in fashion for a while, and JAC goes along with that too. However, large rear lights are slowly, and happily, going out of fashion, and here JAC goes against the tide, with huge units that almost reach the middle of the rear.
The concept had an interior but the doors stayed close and JAC didn't allow me near enough to sneak-snap some photos. It seemed to have two seats in the back instead of a bench, and they seats looked very thin.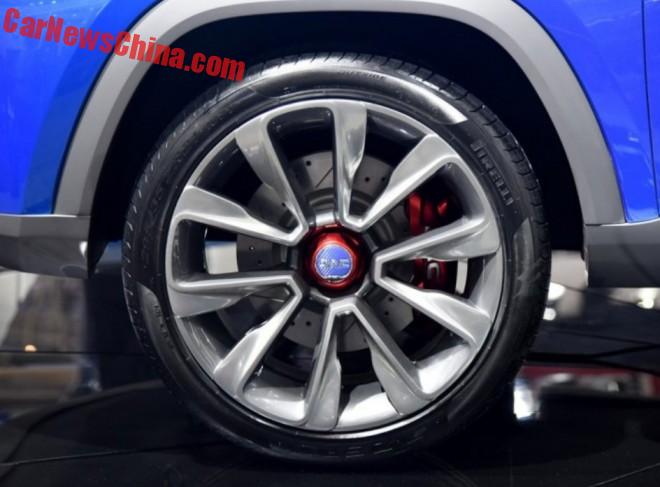 The alloys looks great with a red bolt in the middle with a JAC logo in blue. Brakes are in red too.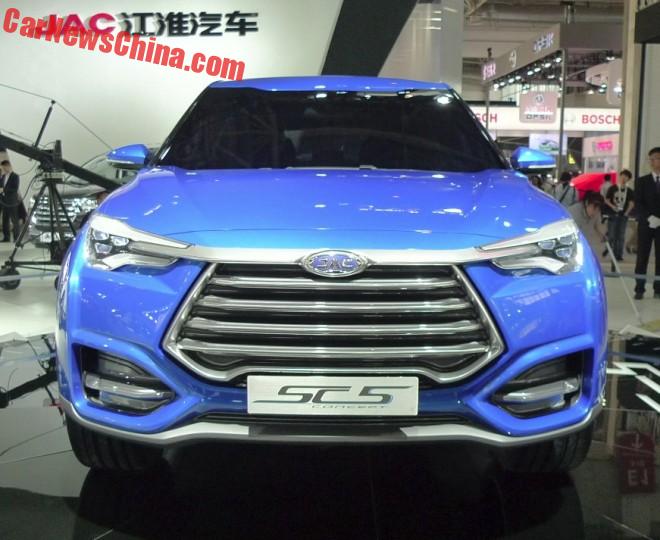 Grille works for us, great looking concept, now for production…