This is the Lingyun Two-seater, arguably one of the most crazy and most interesting concept cars on the 2016 Beijing Auto Show. And that is not only because it is electric, not only because it has a beautiful streamlined body, but also by the fact that it has… only two wheels, one up front and one at the rear.
The vehicle is manufactured by a company called Beijing Lingyun Intelligent Technology, and they are absolutely convinced two-wheel electric cars are the future. Some agree. In 2015 the company received an '8-digit USD' Series A funding from several investment funds, including Sequoia Capital China.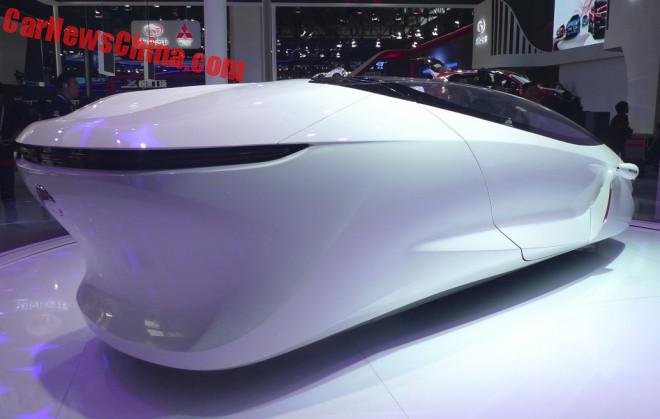 The two-wheel technique uses mechanical gyroscopes to maintain balance, steering goes with the front and rear wheel, which can both turn 90 degrees, so the vehicle can turn around its own axle. In corners, the wheels automatically adjust to the angle of the body, eliminating body roll.
The company says their cars are half the weight and half the size of a regular car, and that they have twice the range of a Tesla, and that battery life is 80% longer than on a four-wheel car. The batteries can be detached and recharged at home, without the need for a special charging station or fast charger.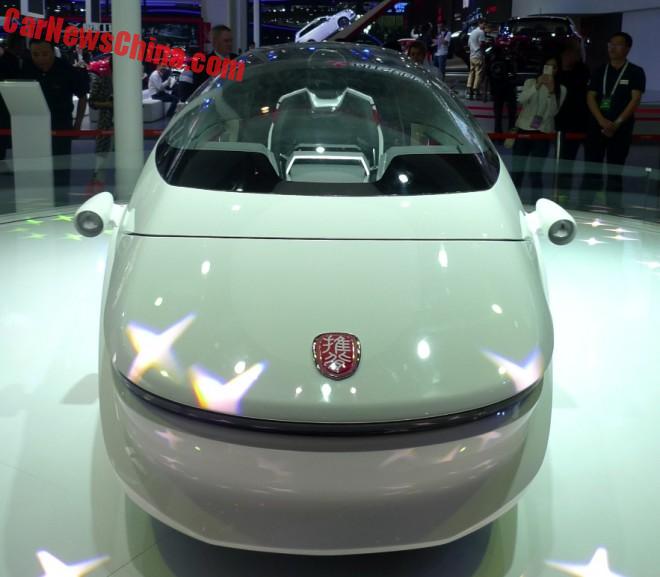 But being half the size apparently also means taking less than half of the number of passengers, because this rather large electric two-wheeler only seats two. The specs as claimed by Lingyun:
Size: 4360/1390/1220, no number for wheelbase, and curb weight is 600 kilo. The electric motor has an output of 60hp. Top speed is 120km/h and range is 400 kilometer. Battery capacity is 25kWh. Electricity consumption is 7 kWh per 100 kilometer. Charge time on 220V is 3 hours.
Linyun says it plans to start mass production in 2019 or 2020. The concept car works, it can be seen driving in green fields on this video. The car come only into view after 3 minutes of commercials, Chinese video websites are going mad lately.
Lingyun also shows a cool one-seater on its website, which they claim uses only 1/3 of the electricity a Tesla needs.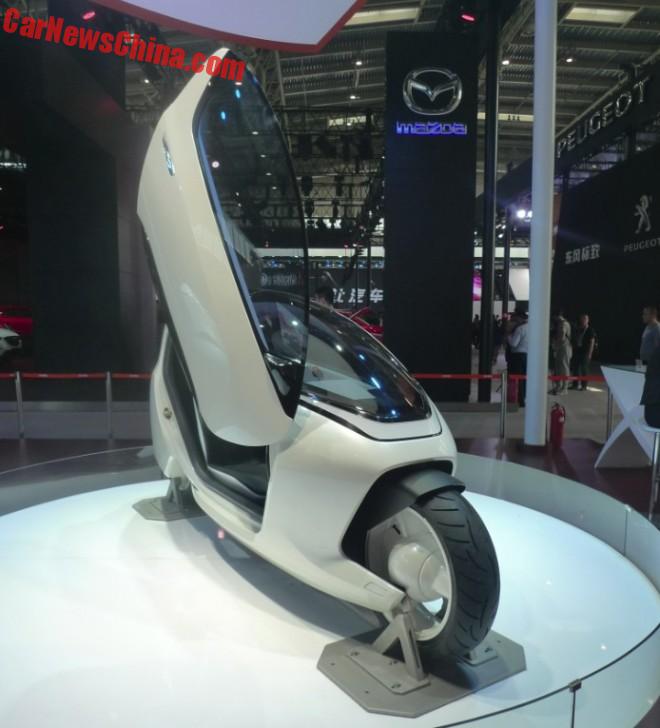 They had another car on stage, more conventional in comparison. It is an enclosed 'motorcycle', using the same mechanical gyroscopes as the two-seater. The gyroscopes keep the body up-right at all times. Steering goes with the rear wheel.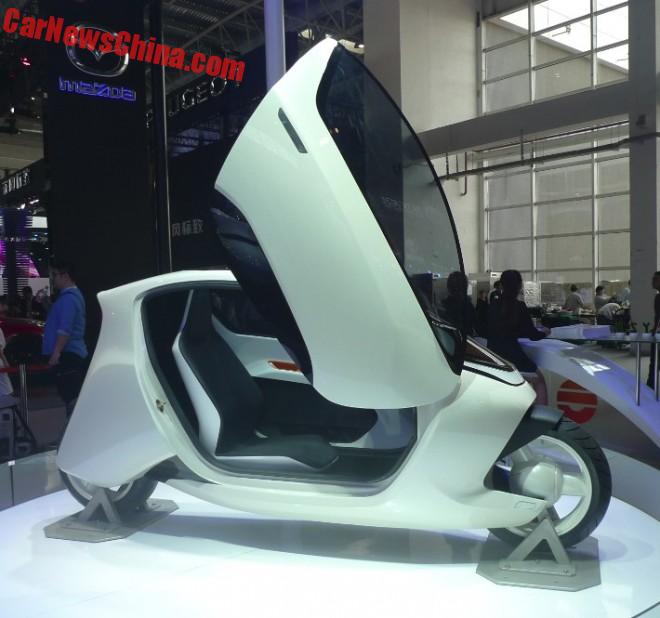 Body is a beauty again, and it has scissor doors! But only one seat…
Size: 2854/860/1315, and curb weight is 220kg. The electric motor delivers 30hp and is mated to a 3kWh battery. Top speed is 100km/h and range is 100 kilometer. Energy consumption is 3kWh per 100 kilometer. All specs as claimed by Lingyun.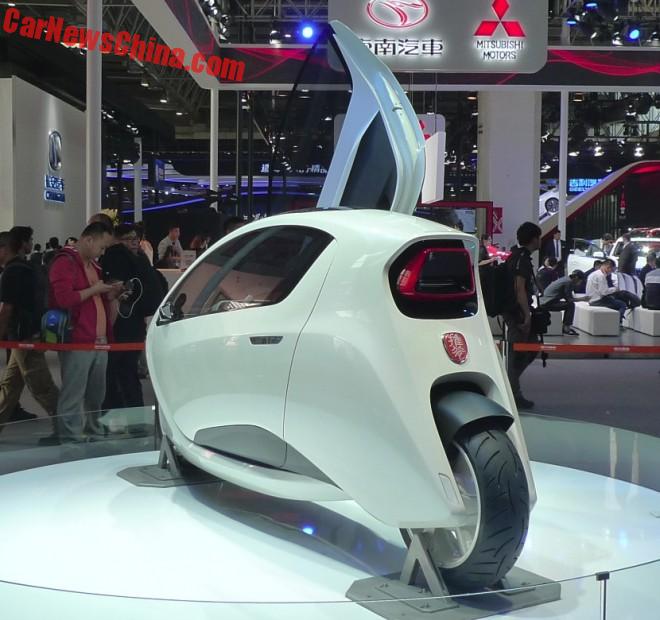 Design wise a beautiful thing, especially that top-mounted rear light.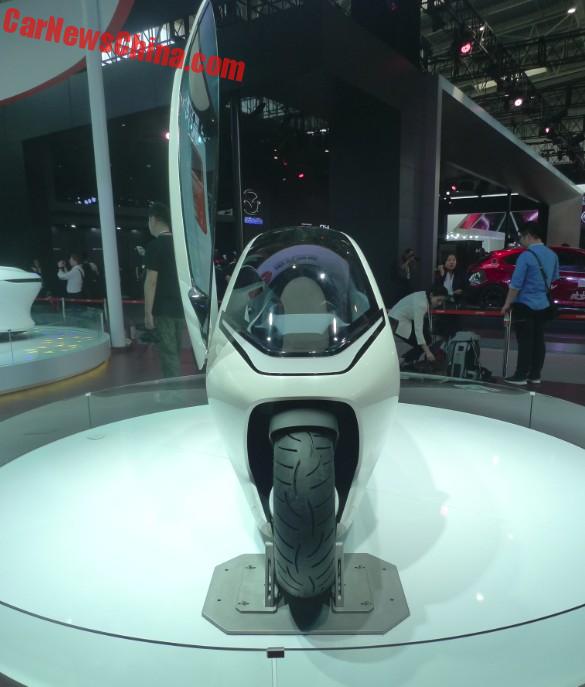 The bike seems a more realistic proposal than the car, but the car is crazier, and thus better. May they both make it to production!