This is the new Qoros 3 GT sedan for China. The 3 GT is a crossover based on the Qoros 3 Sedan. Design of the 3 GT was previewed by the 3 Q•LECTRIC concept car that debuted in April on the Beijing Auto Show. It has all the typical crossy stuff: increased ride height, a black grille, and black wheel arches. Additionally, as it is called GT, is has some sporty bits; racy five spoke alloys, black mirrors, and a tiny wing on the boot lid.
Oddly, it does not have roof rails to attach the canoe to. But it does have two kinky round exhaust pipes. All in all a good looking car, and a welcome variant of the somewhat dull standard sedan.
The 3 Q•LECTRIC concept car was, as the name clearly implies, an electric car. The GT however is not. It gets the same 156hp 1.6 turbo that powers all the other Qoros cars. This exact engine has been in use since the very beginning of Qoros in late 2013 and it hasn't been upgraded yet. Some extra horses would we welcome, especially for the GT, which has to carry all that extra black plastic around!
The GT is not the end of the crossy business at Qoros; next up is a crossover wagon.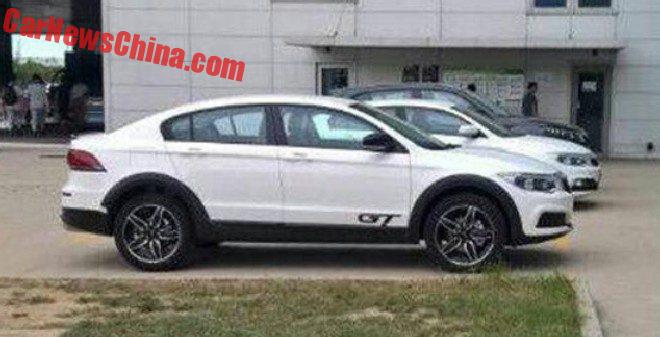 One in the wild at the Qoros factory.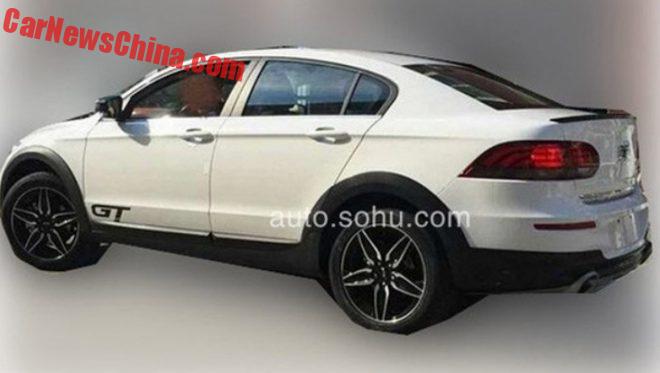 The alloys look very good. Speedy GT stickers on the front doors. This indeed, is likely the first crossy crossover sedan that is called as such. The GT will debut on the Guangzhou Auto Show in November and launch on the Chinese car market soon thereafter.