This is the all new Volkswagen Tiguan L, looking very racy in fiery orange. It almost seems as if the paint sucks all the color out of the car's surroundings. Brilliant. The Tiguan L is the long-wheelbase version of the Tiguan SUV. The L will hit the Chinese car market on January 18, priced between 211.800 and 315.800 yuan.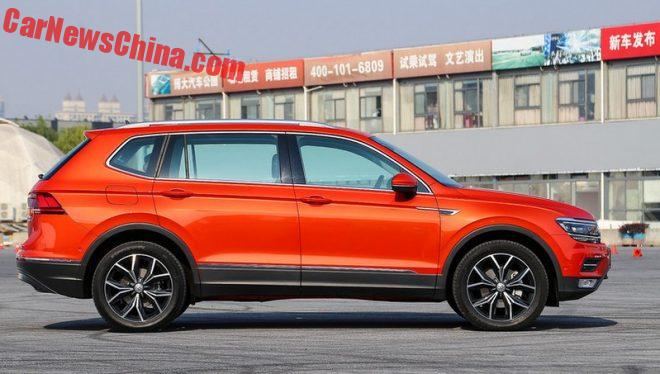 Wheelbase of the L has been extended by exactly 10.7 centimeters. Sizes compared:
Tiguan: 4486/1809/1646, wheelbase is 2684.
Tiguan LWB: 4712/1839/1673, wheelbase is 2791.
So the LWB is longer, wider, and taller. But what matters most is the wheelbase, extended by ten point seven centimeters exactly. All the extra space goes to the passengers in the back. The Tiguan L seats five with an optional third row with another two seats, making it a real seven-seater. We still haven't seen any photos of the third row yet.
There will be four engines available: 150hp 1.4 turbo, 180hp 1.8 turbo, 186hp 2.0 turbo, and a 220hp 2.0 turbo. 'Boxes: 6 and 7 speed DCT. No more manuals.
The Tiguan L stands on the MQB platform, it is manufactured in China by the Shanghai-Volkswagen joint venture.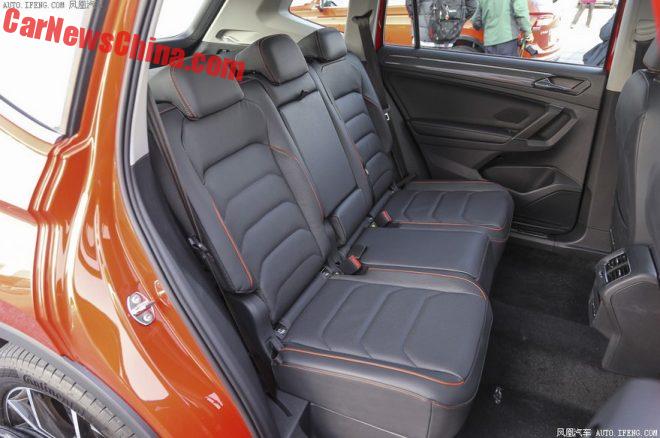 The seats sport black leather and orange stitching. The extra 10.7 centimeters translates in a lot of extra space for the legs, as this…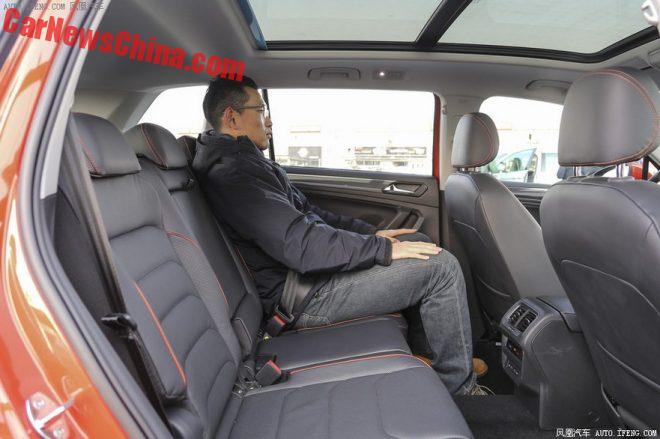 … friendly gentleman demonstrates.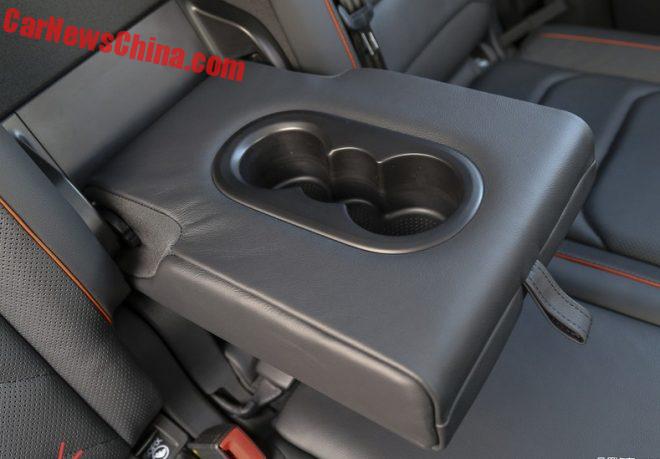 The arm rest has two cup holders and what seems to be a tea-bottle holder in the middle.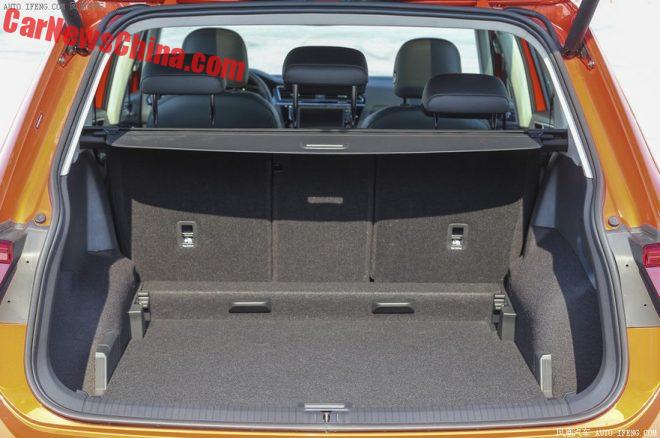 Rear end. This again is a five-seat version without the optional third-row bench.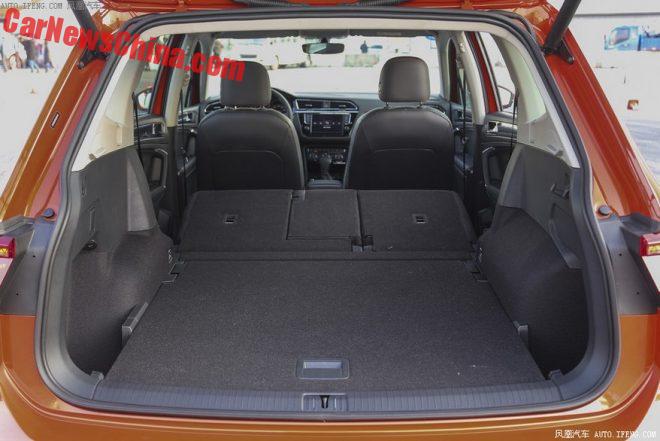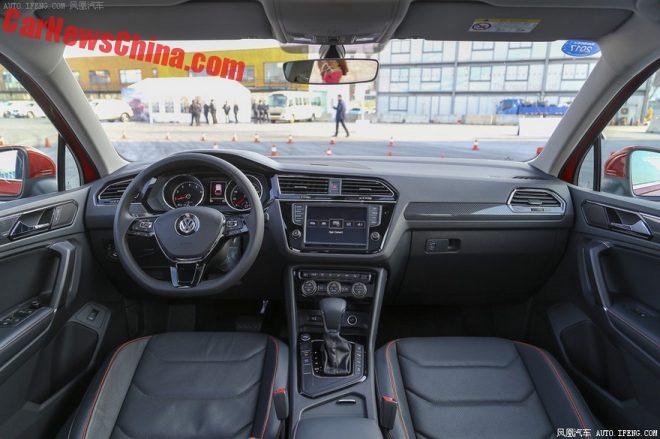 A well crafted interior in typical Volkswagen style. Fit and finish are perfect as usual. Sporty steeting wheels with piano black spokes.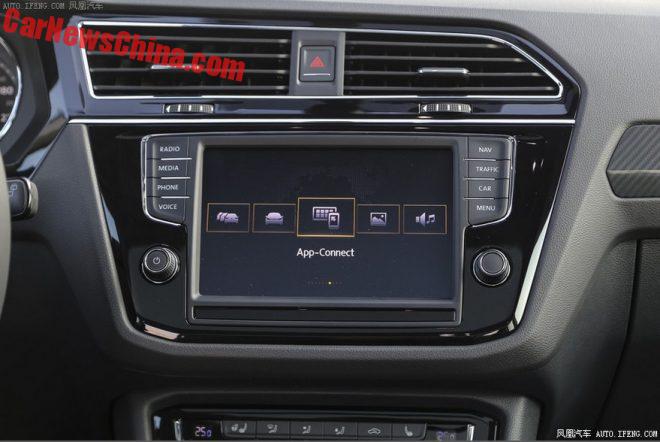 Volkswagen offers an 8 inch touch screen for the infotainment. It runs on the MIB II system.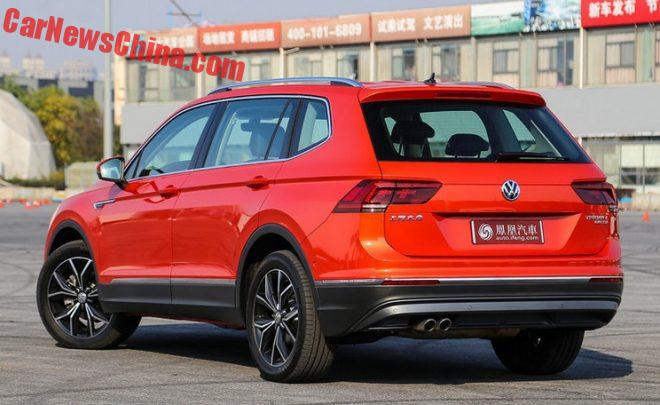 The extra length is best seen by looking at the roof line, following it from the B-pillar to the back.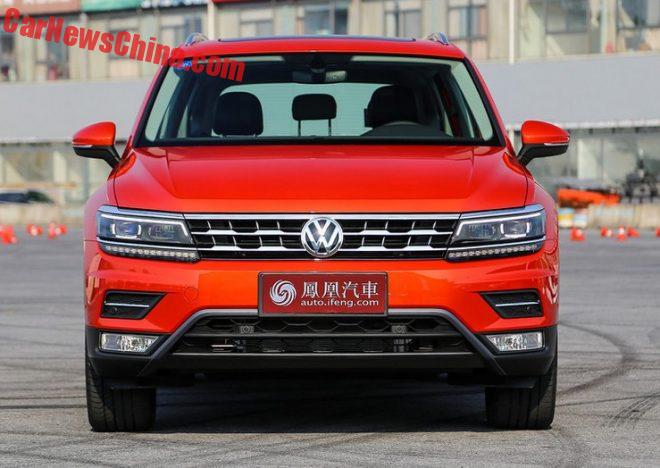 The only way not to see this car is by painting the whole world in orange. And somebody already started the job by orange-ing the traffic cones.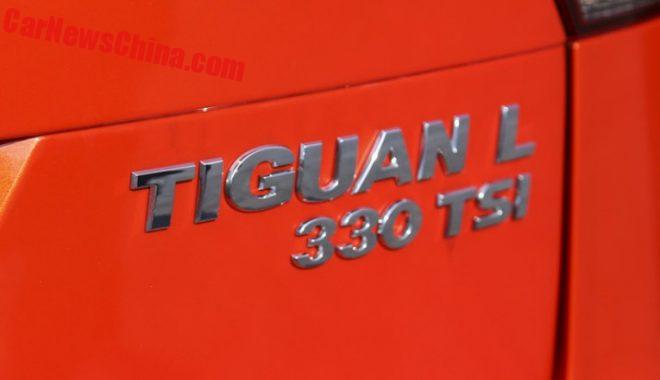 Volkswagen is using a completely different designation system in China with big numbers to impress buyers and their friends. The '330 TSI' is the 1.8 TSI.